Teenagers take to psychotropic drugs and narcotic substances to cope with exam fear, feel that will help them perform better.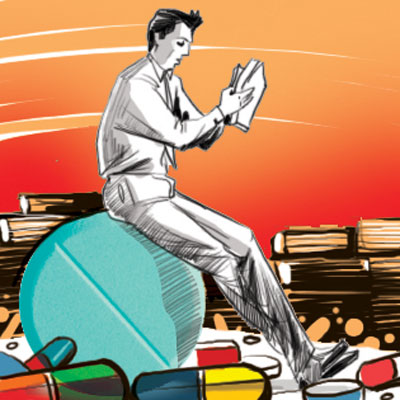 Teenagers are popping drugs and stimulants like they eat toffees, apparently to calm their nerves, before 12th standard exams, and doctors are worried.
A jittery Rohan Srivastava ran to a psychiatrist to get anti-anxiety medicines prescribed before the start of his exams. But not getting immediate results prompted him to try out ganja or charas a day before every exam.
The 17-year-old is not alone. There are many like him who are hooked to psychotropic drugs and narcotic substances. Most of them feel these drugs will drive away their exam fears. Also, they have a false sense of elation thinking they will perform better in exams if they take drugs.
"Students want immediate results. So, they go for high-end stimulants and even narcotic substances as the exam season approaches," Harish Shetty, senior psychiatrist, said. "Modafinil is a common choice as it keeps a person awake and acts like a memory enhancer."
Psychiatrists say some even go for Ayurvedic medicines such as Shankhpushpi, supposed to improve concentration. Then there are allopathic drugs such as Nootropil, Alprazolam, Clonazepam and Propranolol that are used to reduce anxiety, improve concentration and provide better sleep.
But the trend is alarming because students don't stop at these medicines. They also try out drugs, buying them from peddlers.
"I have seen at least 10 students, aged between 18 and 20, in the past three weeks seeking medicines for better concentration," Shetty said. "I have had parents telling me they are worried their children might get addicted to such drugs. We counsel them and ensure they don't get hooked on to these drugs."
The other worrying thing is over the counter drugs. Students try out medicines without consulting psychiatrists. And some chemists oblige them.
Hakim Kapasi, president of North West Chemist Association, said teenagers want anti-anxiety drugs like Diazepam. "This drug is not recommended for young people; but they ask for it as it drives away fear and anxiety," Kapasi said. "We usually don't sell these drugs without prescription. Brain tonics and other milder pills too are in demand. But these have to be taken over some months to find any noticeable change."
Psychiatrists say those who are addicted to ganja, charas or brown sugar increase its intake during exams to run away from reality. Students start experimenting with such illegal drugs and stimulants mostly during exams.
"Drug peddlers can be found in every corner of the city. Often, they roam around schools and colleges," Kavan Lakdawala, a senior psychiatrist, said. "There are also some who go for cocaine and synthetic drugs like ecstasy. None of these has any benefit other than giving a momentary kick. We keep counselling students and parents about the harmful effects of such drugs."
Legal and illegal drugs in demand during exams:
Modafinil: To treat excessive sleep, keeps a person awake
Nootropil: Improves brain function and stimulates the central nervous system
Shankhpushpi and Brahmi brain tonic: Improves memory and concentration
Alprazolam: Used to treat anxiety and panic disorders
Clonazepam: Used to treat panic attacks
Hydroxyzine: Used to treat anxiety disorders
Ecstasy: Used as a mood enhancer
Cocaine: Feeling energised, mood elevator
Charas and Ganja: Mood elevator, energy enhancer, relaxer