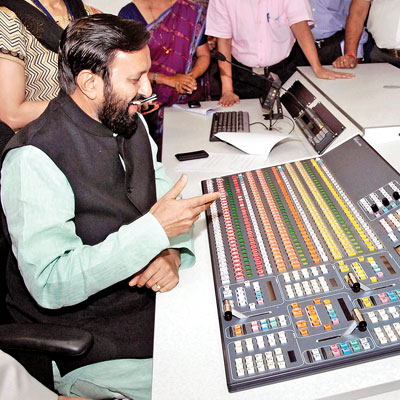 Union minister for information and broadcasting and environment Prakash Javadekar on Friday stated that paid news has become a "menace" and that it has to be done away with. He was responding to questions at a press conference held at Doordarshan Kendra in Worli.
"Paid news and private treaties are matters of concern because they endanger media freedom. Stalwarts like Lokmanya Tilak had fought for the freedom of the press and their sacrifice should not be allowed to go waste," he observed. The issue of paid news relating to election coverage was before the Supreme Court and hence he would not like to comment on it, he said. However, the issue of paid non-election news could be tackled now.
Javadekar interacted with the officials of Doordarshan and sought suggestions from them on improving television coverage. "I want to make Doordarshan channels the most-watched channels in the country. We will make adequate provisions in the budget and also recruit fresh talent. The freeze on recruitment will be lifted. I want to attract the best talent in Doordarshan and make its channels the first-preference of viewers. I have myself taken part in several Doordarshan programmes in the past and I am keen on making it and AIR number one in the country," he stated.
Replying to a question, he said the issue of permitting private FM channels to broadcast news was under active consideration of the government. "They may be allowed to broadcast news provided by PTI and UNI," he said, adding that there would be an improvement in advertisements released by DAVP.
"We wanted a campaign on desertification and for this we invited entries from people as part of crowd sourcing. The results were amazing. The winning entry will now be released through DAVP. Government ads should be made interesting," he stated. Prasar Bharati would be made an autonomous and vibrant institution, he said, adding that his ministry's website would have a "Minister's Corner" in which the public and staff of Doordarshan, Prasar Bharati and AIR could post their comments and suggestions.