ForInter national Day of Sport for Development and Peace we introduce two dna readers to some wrist and finger locks and a pair of exceptionally trained teachers of Aiki-j? jutsu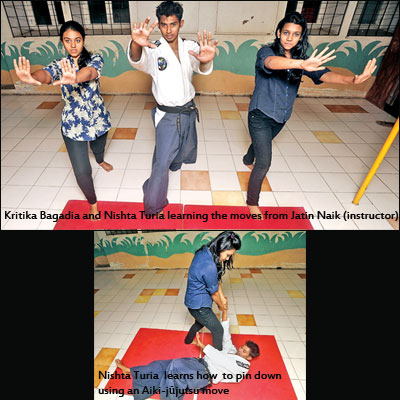 While Mumbai is still warming up to Taekwondo, a Korean martial art, its half-brother, Aiki-j? jutsu, has also setits foot in the Westcoast. Aiki-j? jutsu, which means "self-defence against unprovoked violence", is a part of Japanese police training sessions. A dark,secretive, highly combative Samurai art, Aiki-j?jutsu was once used by unarmed fighters to kill armed Samurais. Two young dna readers get a lowdown on the tricks of self-defence in Aiki-j? jutsu at sensei Mehul Vora's class in VileParle.
Vora, who got introduced to karate and judoin 1981, has been teaching martial arts since 1995. Relatively new toAiki-j? jutsu, he started learning it in 1999 and earned a black belt in 2005."Used in wars, Aiki-j? jutsu was a closely guarded martial art, taught only to the Samurai class," he informs. In a karate and judo class, students need towear the karategi (karate training uniform) but in an Aiki-j? jutsu class, you can wear whatever you are comfortable in.
As Kritika Bagadia and Nishta Turia step into Vora's class, it begins with a small prayer. The instructor demonstrates aquick sequence of joint, finger and wrist locks. "In the advanced classes, you will be introduced to the elbow, knee and leg locks," informs Vora to the readers. The routine is exacted in slow motion for the benefit of Bagadia and Turia so that they could replicate the movements.
Strength and agility are not a must to practice Aiki-j? jutsu; the art form is known to favour the fair sex and works on the basic premise of not how strong the opponent is but how quick your reflexes are. The techniques are to control, subdue or injure an attacker, especially those who are at close proximity to you. "Without too much leg movement, and just wrist and hand movements, you can bring your opponent down on hisknees," Vora confides. As Bagadia and Turia perfected the movements, the other students occupied another section of the room and workedon perfecting their leg locks, tossing their opponents around before pinning them to the ground. The students are asked to go slow and use only 15 per centof their actual strength as "we do not want people suffering fractures by theend of the session," announces the instructor. The one-hour session ends with a small prayer to thank the teachers for the training before the class disperses. "Somepeople join us to get fitter, while others are here to learn something new,"says the instructor.
Accordingto Vora, Aiki-j? jutsu is a powerful defense mechanism and it is gaining popularity in the city due to the sudden surge in attacks on women. "Women in Mumbai need something lethal to defend themselves; a bone-breaking practice to protect themselves," says Vora, "My Aiki-j? jutsu classes have beenwell-received by people in the neighbourhood, who enjoy attending the sessions and through them I enjoy word-of-mouth publicity."