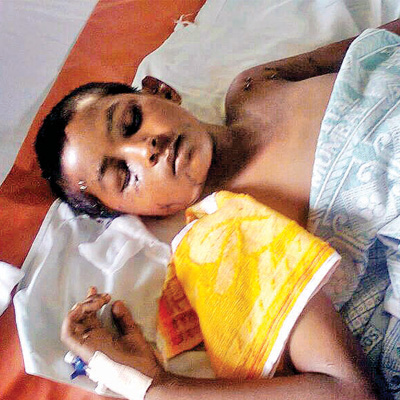 A nine-year-old Mumbra resident, Shahid Sayyed, was attacked by a pack of dogs on Wednesday in Mumbra, Thane. He sustained over a hundred bite marks on his body.
Shahid was on his way to school around 6.45am with his two brothers when around nine to 10 dogs attacked him. Though he and his brothers cried for help, there was no one around. A passer-by who knew the victim informed his parents who took him to hospital.
Salim Sayyed, Shahid's uncle, said, "First, one dog attacked him and then, in a fraction of a second, nine more dogs pounced on him. No one came ahead to save him. His brothers cried for help too... they then came home and told me. We took him to Shivaji hospital, where they administered first aid. We took him to KEM hospital and then Nair, both refused to admit him. He was finally taken to JJ hospital."
Doctors at JJ hospital operated on him to suture his wounds. "The boy sustained deep bites on legs and hands. His left cheek was also badly hurt. Our plastic and paediatric surgeons sutured his wounds," said Dr TP Lahane, dean.
He was also given anti-rabies and immunoglobulin injections to avoid any potential infection, said doctors, adding that he is now stable.
A police officer said once the boy or his family approaches them, they will take down the details and lodge a complaint.
Chandra Singh, ARM (Animals Right Mumbai) co-founder, said, "The place where the incident took place isn't a good area. As per law, an animal picked up from a particular area for being vaccinated must be released back in the same area. However, locals of some areas don't allow the Thane Municipal Corporation (TMC) to do this. When dogs are not sterilised, they get aggressive and, hence, such things happen.
People need to let TMC do its job."