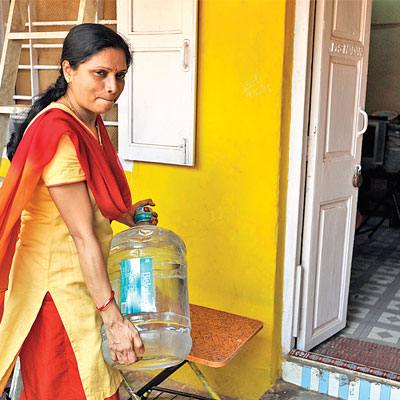 Teams from the water works department and sewerage operations of the Brihanmumbai Municipal Corporation (BMC) have finally swung into action to rectify the botched-up laying of a new water pipeline and ignoring the damaged sewer lines in Bandra.
dna, in its April 30, 2014, edition, had raised the issue of how the civic body has turned a blind eye to the issue, forcing the residents to buy mineral water.
In November 2012, a private developer damaged the sewer pipeline between buildings five and six of MHB colony in Khernagar, Bandra (East), while carrying out piling work during the laying of a new building's foundation. This had led to water contamination and choking of sewer lines of most buildings.
In its issues dated November 4, 2012, and November 6, 2012, dna had reported how the residents were receiving water with actual sediments of sewage in it and how, as per their claims, sewage water was choking their toilets and gushing into their houses. The residents had complained last November and the BMC had managed to solve the problem temporarily. However, civic officials are still struggling to find a permanent solution to the issue.
Executive engineer from water works department has invited the residents on Friday to discuss the details of the problem and explain to them the necessary arrangements for the repair work. "While H-east ward has taken samples from the area, we will meet the residents to understand their complaints," said a civic engineer.
Additional municipal commissioner Rajiv Jalota said the repair of the drain and sewer lines will be done on an urgent basis but, considering the developments in the area and the future need, BMC has to work out a comprehensive plan.
"I am told that several buildings are going in for redevelopment and this will put additional burden on existing infrastructure. We need a new sewerage network and water pipelines. Also, the major drain in Bandra (East) is already undersized. It needs to be deepened and widened to augment its capacity," he added.