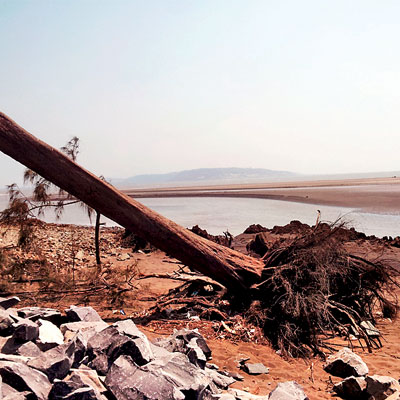 The state government and local authorities are in no mood to protect the trees which have been destroyed by the land mafias to encroach on the coastal areas of Vasai-Virar. Over 100 trees were destroyed by poisoning and burning them for firewood and to build makeshift tents for vendors.
Thousands of Casuarina trees dot the Arabian sea towards the Vasai-Virar belt and many of them have been destroyed because the land on which they grew has been occupied by illegal resorts and stalls.
Recently, around 1,500 trees were burned down at Arnala Beach in Virar, while 400 trees were poisoned at Suruchi Baugh. One of the most serene beaches at Vasai, Suruchi Baugh had dense green cover but now has a barren look with water entering the villages due to soil erosion.
"In the past couple of years, the belt of coastal villages has been losing green cover with illegal resorts and land mafia destroying the Suru trees and occupying the government land to build resorts and to develop small tenements. On World Environment Day more than 100 trees have been destroyed," said Pratik Thakur, social activist.
"The mafias inject poison in the roots for uprooting it easily at one go and chop it down. This kind of activity takes place mostly at night and the villagers too are involved in these activities," said Thakur.
"Earlier, the trees and green cover on the beaches of Nalasopara and Vasai were dense and later, the mafia destroyed it as the state government does not take necessary action," said Suresh Dhumal, local resident.
"We have taken this issue seriously and such kind of incidents have decreased. We will surely take action if we find someone guilty of destroying the green cover on the coastal belt," said a senior state government official.