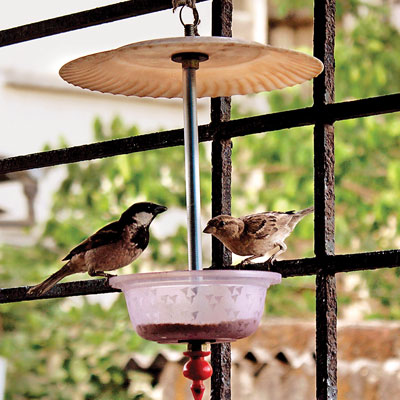 Today is the World Sparrow Day, a day to rekindle your thoughts of those fast disappearing bird. Did you know that once considered as the most commonly bird found in the country – sparrows have now been overtaken by crows, pigeon and mynas in various cities, pushing it down to the fourth place, according to a recent report conducted by the Common Bird Monitoring Program India (CBMI).
The CBMI is a four-year long program that involves community support in recording bird sightings. Data for the first-two years pins sparrow sighting at 18,035 as compared to the Rock pigeon, which is now the most commonly seen bird at 27,064.
For a decade now, the small sized sparrows have been on a decline and experts blame the lack of nesting cavities, loss of supporting biodiversity and lack of worm feed due to pesticides, for the sparrows.
Increase in availability of food in the form of garbage, pigeon feeding rituals in kabutarkhanas and the decline in natural predators, have led to a rise in pigeons and crows, states the report. On the other hand insects and worms that thrive around native plants and form the sole nutrition for baby sparrows are reduced in many urban areas due to pesticides or exotic biodiversity, leading to increased mortality of young sparrows.
"One of the main reasons is the modern architecture that don't provide cavities that are essential for the sparrows to nest in. Pigeons and crows on the other hand are used to nesting on flat surfaces like ACs, ceilings and window sills," said Mohammed Dilavar, founder of Nature Forever Society, who initiated the CBMI.
"We want volunteers to help us keep a track of these birds. These common birds represent the ecological health of a place and monitoring them will help us identify the areas where timely conservation is needed. The rate at which the sparrows are reducing, it seem as of in another 5-10 years we might not have any of them left," said Arpita Bhagat, project head, CBMI.
Common bird sightings the last two years in order
Rock pigeon: 27,064
House crow: 26,707
Myna: 21,398
House sparrow:18,035
Bring back the sparrows: You can register yourself on the website and contribute by recording your sightings of any of the 18 common birds listed on the website www.cbmi.in . You can also keep an artificial sparrow nest or make one in your window or balcony, for sparrows.
For artificial sparrow nests, contact: Nature Forever Society at 9890087988 or Sparrow shelter at 022-32993325.