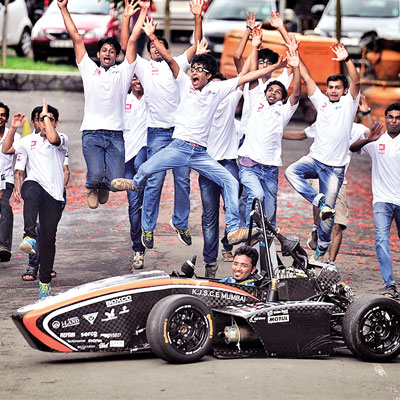 For the past eight years student of KJ Somaiya College of Engineering have been participating in the Formula Student Germany (FSG) event. This year, the students launched their Orion Racing India (ORI) 2014 racing car.
They will compete against teams from 44 countries under the Society of Automotive Engineering competition. This year the event will be held at the Baden-Wurttemberg, Hockenheime Ring in Germany. The Somaiya team is currently India's top ranked student racing team amongst the 450-odd teams that make such similar prototypes.
There are 60 students in ORI 2014 team but only 25 would be visiting Germany. The students who have experience and have participated in the competition before. The ORI consists of second, third and final years students of bachelors of engineering programme. The students will leave on July 16. The event begins from July 29 till August 4.
In 2009 ORI was adjudged as "The Most Improved Car" at the event. In 2010, they were positioned among the top 8 in the electronics design. They were placed 3rd in the overall cost at FSG 2012. 2012 was a historic year for the team as their car Arion, became the first car from India at any FS event to complete the 22-km race. In 2013, the Arion2.0 scored 85 points in the design review and secured 9th place in the Business Plan Presentation; the highest ever in the history of ORI.
Shubha Pandit, principal of KJ Somaiya Engineering College, said, "Students get the opportunity to interact with global engineering companies and some of our students have even been selected to work for reputed organisations. "
Pramath Patel, a final year student, and ORI team member said, "Competing in international events builds our confidence. Working on such projects, not only trains us not for our college project but also helps us to deal with life skills like project management, logistics and working as per global specifications."
The ORI-2014 has used advanced manufacturing processes like rapid prototyping. Car has a lot of sensors on-board and an on-board telemetry system that enables engineers to view data from various sensors 100m away without the use of wires. The car has implemented extensive carbon fibre applications including an entry into aerodynamics by building an under body diffuser for the first time in its history, making the car light weight at the same time.