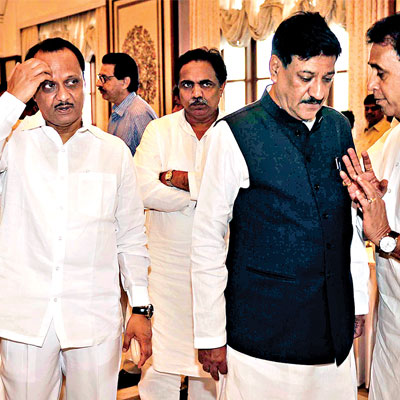 With curtains rising on the last session of the state legislature before the Lok Sabha polls, the opposition is sharpening its knives to take on the Congress- NCP led state government.
The opposition is planning to demand discussion on the Adarsh commission report during the budget session. It will question Governor K Sankaranarayanan's clean chit to former chief minister Ashok Chavan on the scam, lack of transparency in toll contracts, unsolved murder of rationalist Dr Narendra Dabholkar, repeated parole being granted to actor Sanjay Dutt, backwardness of regions like Vidarbha and Marathwada and action on "tainted" ministers.
The report of the Madhav Chitale committee which is probing the alleged irregularities in irrigation projects is also likely to be submitted to the state government during the session, which is expected to run for only four days. The opposition has also slammed the government for the truncated session.
"This government has failed with zero marks out of 100. In its four-and-half years, the government has not been able to do anything substantial in areas like agriculture, economy, industry and roads. The government is like an inert vehicle which has never been put into gear," charged senior BJP MLA and the party's former state unit chief Sudhir Mungantiwar.
However, Congress MLA from Mumbadevi, Amin Patel charged that the opposition had no new issue to raise and was hence raking up old points,. "They are not interested in doing something for the state."
Senior Shiv Sena MLC Diwakar Raote pointed out that Dutt, who has been convicted under the Arms act for illegal possession of weapons and whose sister Priya is a Congress MP from Mumbai, was being treated as the "favorite criminal of the government" by being given repeated parole. He charged that the state was not putting forth in court the stand of J.J Hospital dean Dr Tatyarao Lahane, who has been accused of using casteist slurs.
Subhash Desai of the Shiv Sena criticised the decision to curtail the session to just four days because of the likelihood of the code of conduct being imposed soon and pointed out that states like Himachal Pradesh and Jammu and Kashmir had held their sessions earlier. He attacked the state government for the pending border dispute with Karnataka and the poor situation of the power sector.