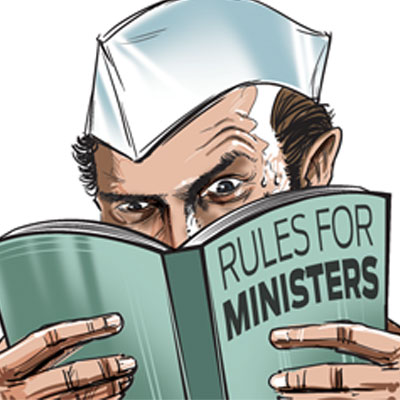 Two days after Prime Minister Narendra Modi asked all his ministers to disclose within two months their assets, liabilities and business interests, information obtained under the Right to Information Act reveals that only 57 per cent of the state ministers have abided by it in 2013-14.
As per the code of conduct formulated by the Union Home Ministry in 2013, every union and state minister is expected to provide details of his/her assets, liabilities and business interests to the prime minister's office and the chief minister's office by August 31 every year. However, declaration to this effect was mandatory for ministers under the Representation of the People Act, 1951, also.
Replying to an RTI query filed by activist Anil Galgali, on May 25, for the year 2013-14, the government has stated that only 24 out of 42 ministers followed the code in Maharashtra. The list of disciplined ones includes, chief minister Prithviraj Chavan, deputy chief minister Ajit Pawar, PWD minister Chhagan Bhujbal, forest minister Dr Pantangrao Kadam, school education Minister Rajendra Darda, rural development minister Jayant Patil, health minister Suresh Shetty, environment minister Sanjay Deotale,excise Minister Ganesh Naik, labour minister Hassan Mushrif besides others.
Amongst those who have been prominent defaulters include industry minister Narayan Rane, home minister R R Patil, revenue minister Balasaheb Thorat, minority and Mumbai suburban guardian minister Arif Naseem Khan, tribal development minister Madhukar Pichad etc.
However, when compared to the past few years, records have shown a marginal improvement. In 2010, soon after the code was announced, not a single minister had cared to abide by it. In 2011, the figure jumped to 16 and the following year it touched 22. "We will continue moving the government until the figure touches 100%," said Galgali.