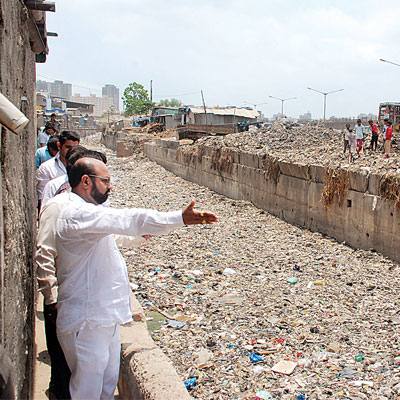 A few days after Shiv Sena president Uddhav Thackeray expressed satisfaction at the way BMC de-silting works were progressing, the Congress on Monday dubbed the statement false.
The main opposition party in the BMC said contrary to Thackeray's claims, Mumbaikars were set to witness flooding during the monsoon as only 10 per cent of the de-silting work had been completed.
According to Laxman Vhatkar, the BMC director for engineer services and projects, 95% of the work has been completed.
Devendra Amberkar, the opposition leader and Congress corporator, speaking to reporters after visiting nullahs in the island city and eastern suburbs, trained guns on the saffron party and municipal administration for allegedly fooling the public. "Sena leaders have misled Uddhavji. He was taken to only those stretches that were clean. He has no idea what a shoddy job BMC has done. Work has been carried out only in accessible areas, and inaccessible spots have largely been ignored," Amberkar said.
The Andheri corporator visited Rafique Nagar (Govandi); Subhash Nagar, Chheda Nagar and Mukund Nagar (Chembur); Somaiya (Tilak Nagar) and Shanti Nagar nullahs in Wadala.
"It's not just about accumulation of refuse. In some areas like Kadariya nullah in Chembur, shanties have come up. Sandhya Nandedkar, the assistant municipal commissioner of that ward, failed to give a satisfactory reply on this. It's obvious that people are being fooled and tax payers' money has gone down the drain," Amberkar alleged.
However, Sunil Prabhu, the mayor and Sena corporator, ridiculed Amberkar's remarks. "If he has found that nullahs haven't been cleaned, he should bring that to the notice of the officials concerned. The job would then be done. He too is a trustee of the corporation and it's the duty of each of us to get works done," Prabhu said.