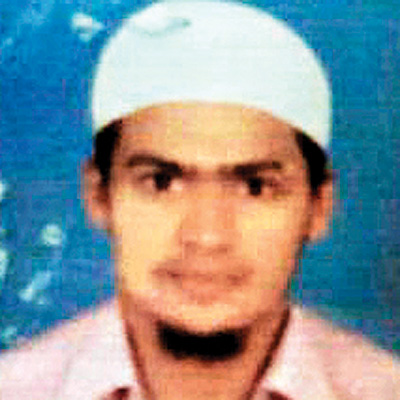 Arif Majid, one of the four Kalyan youths who went to Iraq and apparently joined the Islamic State in Iraq (IS), is dead.
On August 26, around 6.30pm another youth Shaheen Tanki called up his parents and told them that Majid had died. When his parents asked him about their whereabouts, the phone went dead.
On May 23, four youths in their 20s from Thane and Kalyan left for Iraq, along with 40 other pilgrims, to visit Mosul in Baghdad. Fahad Shaikh, Arif Majid, Aman Tandel and Shaheen Tanki apparently joined the IS to fight the war from the Iraq side for a separate Muslim country.
There is pin-drop silence at Sarvoday park, Patlipur, Kalyan (West) as news of Majid's death has already spread in the area. His family on the second floor of C-wing refused to talk to anyone.
Iftikar Khan, uncle of Fahad Shaikh, said: "I came to know that Shaheen had called his parents two days back to inquire about their health and told them that he is safe and sound in Iraq. They also inquired about Majid as his parents were worried but did not get any reply. Then on August 26 around 6.30pm Shaheen called from the same location and told them that Majid has died."
Majid's parents were informed soon after. Khan said they were worried ever since they got the news. "Majid might have died, along with civilians, in the bombing... One of the parents had a word with his son... They told Shaheen that the parents were taken ill and the call got disconnected. We know that our children are not into any kind of IS activities.
We are clueless when we will get back the body and perform the final rights," he said.
A relative who was present at the funeral prayer that was performed on Tuesday mid-night said: "In the morning a close relative informed me about Majid's death. We rushed to the spot and found his parents weeping. It seems like they have accepted the news. They are in no condition to talk... we are just relying on the news but there's no confirmation."
A senior Thane ATS officer said: "Ever since we came to know about the death, we are looking into it... we are in touch with family members and other relatives."
Majid was a third year engineering student; his father is a doctor in Kalyan.