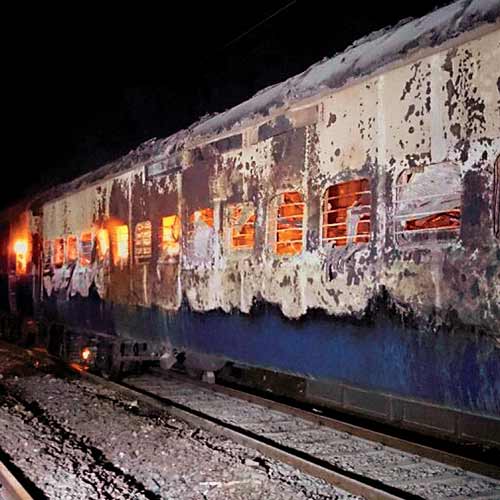 Hours before boarding the Bandra Terminus-Dehradun Express, Naseer Ahmed Khan Pathan, 50, prayed at the Haji Ali Dargah, in Mumbai. A devout Muslim, Pathan was one of nine people who perished in the fire that engulfed three coaches of the Bandra Terminus-Dehradun Express in Thane district in the wee hours of Wednesday. He had miraculously survived the blaze, but died when he re-entered the compartment to pick up the holy book he had kept under a pillow on seat number 4 in coach S4.
Of the nine dead, five, including a woman, have been identified. Four other bodies were charred beyond recognition. Hemant Kumar, general manager, Western Railway, did not confirm the cause of the fire. He said an inquiry has been ordered and will be conducted by the commissioner of safety.
Pathan, a resident of Dahod in Gujarat, was on his way back home when a fire broke out in the S3 coach and spread to adjacent bogies S2 and S4 a little past 2am when the train had passed Gholvad station. He managed to escape the fire when the train came to a halt, but realised he had left the holy book behind and rushed back to the burning compartment, where he died.
Other passengers warned him against entering the compartment again, but Pathan did not pay heed. Despite the billowing smoke, the Gujarat resident managed to get inside the coach and retrieve the holy book. However, while rushing towards the exit door, he collapsed and died of asphyxiation with the holy book in his hand. Pathan's brother, Firoz Khan had also raced into the coach to rescue him, but got stuck in the bogie and he too met a ghastly end.
"My uncle was very religious. After visiting Haji Ali, he told us that he was facing some troubles and was planning for a peaceful life. He is no more now... may Allah protect his soul," said Maqsooda Khan, Pathan's niece.
A passenger said people tried to stop Pathan from getting into the compartment, but he was adamant. "He kept screaming that he forgot his holy book and got inside the compartment without thinking twice. His brother Firoz who tried to save him also died. The scene of the dead bodies being brought out was very disturbing," the passenger said.
"When we were rescuing trapped passengers, we came across two bodies lying next to each other. Pathan had a holy book in his hand. We were shocked to find out that he had entered the compartment to collect the holy book," said MR Jadhav, a government railway police official.
The incident took place 10 days after an air-conditioned coach of the Bangalore-Nanded Express caught fire in Anantpur district of Andhra Pradesh, killing 26 people and injuring 13 others.