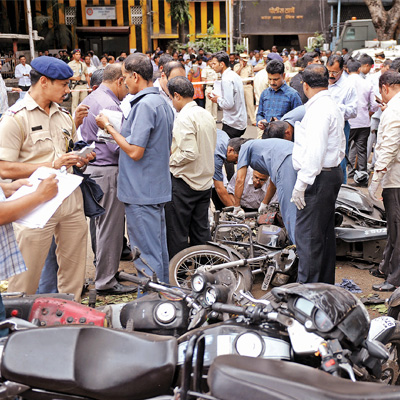 A fatal cooking gas cylinder blast early on Monday in the eastern suburb of Chembur left one dead and 16 injured.
Mahesh Jagtap (38) died on the spot. His wife Jyotsana (35) and mother Rukmini (65) were admitted to BMC-run Rajawadi Hospital with severe injuries. The couple's two daughters were in their grandparents' house when the mishap took place.
Rukmini, who has 70% burns, was later shifted to Kasturba Hospital for Infectious Diseases at Chinchpokli.
Mahesh Jagtap used to work as a computer operator in a local sales tax office.
Jyotsana has sustained 40% burns. Two of their neighbours, a girl and a man, sustained 20% and 30% burns, respectively. The rest (12) suffered only minor abrasions.
"Jyostana, who sustained 40% burns, is in a serious condition. Poornima Kale (20) who has 20% burns, has also been admitted to the burns ward of the hospital," said Dr Vidya Thakur, medical superintendent, Rajawadi Hospital.
The Jagtap family stays on the bottom floor of the 10×11ft tenement. They have leased out the first floor to another family. Up to seven people stayed on the first floor.
The gas cylinder was being used for domestic purposes. According to neighbours, when the blast took place close to 6.45am, the ceiling came crashing down on Mahesh and Jyotsana sleeping on the ground floor. Rukmini had just stepped out of the bathroom; the stove hadn't been yet lit.
Following the explosion, neighbours ran to the spot and pulled the victims out of the debris. But by the time they had finished doing that, Mahesh was dead. "By the time we reached for Mahesh's body, he had breathed his last. Jyotsana and Rukmini were pulled out and admitted to hospital," said Vinod, a neighbour.
Fire brigade officials said the explosion took place after gas had leaked from one of the houses in the locality. "Fire brigade has seized cylinders in the area for inspection," a fire official said, and added that they were investigating the actual cause of fire.
Poornima Kale, who stays on the first floor with her family, was fast asleep when the house came crashing down. "I remember waking up in the morning briefly and going back to sleep. The explosion took place at 6.45 or so," she said.
The blast damaged the walls of two neighbouring structures. The BMC brought down the damaged portions of the structures and evacuated residents of three tenements affected by the blast.
Cops in Chembur police station have recorded the statements of the locals and have initiated an inquiry.