For senior citizens voting was mostly about doing their duty to the nation, but the youth, whom most parties had wooed, preferred to keep away as if it was none of their business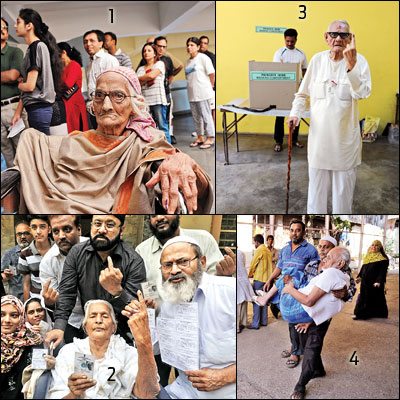 Youngsters whom most political parties wooed and promoted as the future of this country, largely skipped the polling booths on the voting day. And those who turned out to vote were either the elderly or the middle aged. Polling officers across the city were, however, not surprised, and said the elderly, who usually go out for their morning walks, are generally the first to cast their votes.
Ninety nine-year-old Gandhian Kum Hansa Shroff looked contented as she came smiling out of the polling booth at NL School in Malad. A beaming Hansa Shroff, who was on her wheelchair, is the founder member of the Kandivli Education Society, NL School and SVP School in Kandivli and Malad.
She said by voting she was doing her duty to the nation. Shroff, a staunch Gandhian, was a part of the freedom struggle and has pledged before Gandhiji that she would lead a simple life. "She wears only Khadi and has never travelled on a plane even though she can afford it. Though restricted to the wheelchair, she is very active and even spins the charkha at home. And Hansaben has never missed out on voting," said Shroff's sister–in-law Malini.
North-Central constituency voter Krishna Kaur (94), who cast her vote at the same both as sitting Member of Parliament Priya Dutt, was helped to the booth by her daughter. Kaur had to climb down a steep slope and steps to reach the centre, but that did not deter her from casting her vote at 10 am. She said: "We need to believe in our democracy and vote."
This general election was the first time in so many years that Andheri resident Lalit Chuggani felt like stepping out to vote. His name has always been there on the electoral rolls, but it was only on Thursday that this 47-year-old exercised his right for the first time along with his family. "To date, there has never been any political reason that excited me enough to go and cast my vote. But this year, I felt I should not miss the opportunity," said Chuggani.
Similar sentiments were expressed by Tarabai Narayan Vaid (90) of the North-East, a resident of Mulund East, who has never missed casting his vote. He said: "I vote for my country."
There were also many cases of the elderly travelling from their current place of residence and constituency to places where they have been registered as voters.
Javerilal J, 65, and Pragna, 63, who had recently shifted to Borivli from Malabar Hill, went to exercise their franchise in the afternoon. "Every vote counts and every responsible citizen should vote," said Javerilal.
For them the tough part apart from the heat was climbing the steps after casting their votes. "The polling booth was in a municipal school at Banganga. Going down wasn't an issue, but climbing back was no cake walk. Wish there was a polling booth somewhere near Teenbatti or Walkeshwar bus stop," said Pragna.
Kumud Shah, an enthusiastic wheelchair bound senior citizen, looked very happy to have voted. The 88-year-old resident of Walkeshwar had come to Gopi Birla Memorial School for the purpose. "The ramp was too steep, but otherwise I think they had organised the whole thing pretty well," said Shah.
"Voting is an absolute must. This country has seen so many changes. Look at Mumbai. It is slowly becoming unlivable. So, voting in good people will help," says Harakhlal M Vankani, who at 95, could shame the huge number of Mumbaikars, who once again exhibited their apathy.
Like in the past so many years, Vankani, popularly known as HMV kaka in the area in Matunga Road where he lives, came out to vote in the South-Central constituency. Originally from Gujarat, Vankani, who has made Mumbai his home for the past 80 years, pursues astrology as a hobby.