We catch up with Grant Road-resident Bela Mardia, who paints using palette knives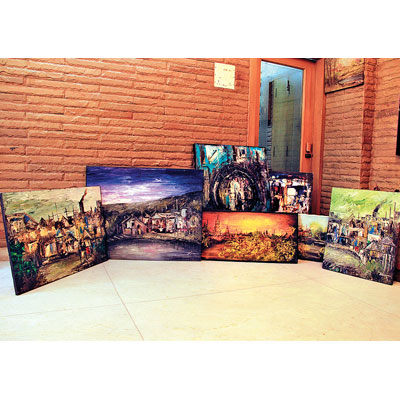 Bela Mardia, a self taught artist, she works mainly using palette knives and oil paints. The colours explode and speak vibrantly on pieces of canvas all over her house.
As a child, she started painting on white tiles that she found by the wayside in her hometown in Rajasthan. She would also practice painting on plywood. Having studied commerce, she attributes her knowledge about oil painting to a friend who learnt art. "I was never encouraged to paint when I was young. I used to go to the art store all by myself to buy my canvas and paints," says Mardia. She followed her heart and in 2008, she had her first exhibition at Kala Ghoda. In 2009, she found her way with the palette knife and has been unstoppable ever since.
Mardia patiently explains the intricate details of her work, "Painting is a thoughtless process for me, much like meditating. I let my hand and mind flow on the canvas. Once I start thinking too much about it, I know I have to stop." Once she gets going, she is capable of finishing six paintings in one night, without remembering to eat or sleep. Her works depict various sceneries—she believes that she has seen those scenes somewhere in the past but cannot place her finger on it. "I have not studied art but a lot of people at my exhibitions have found my style similar to that of Van Gogh's," says Mardia. She loves every moment that she spends at her canvas and that is reflected in her work. She says, "I discover a strange kind of happiness after finishing every piece."
Since 2009, Mardia has painted over 500 pieces using only palette knives and many more using brushes. By exhibiting her works at various galleries as well as on Facebook and Instagram, she is trying to reach out to the world and strike the right chord with her art.