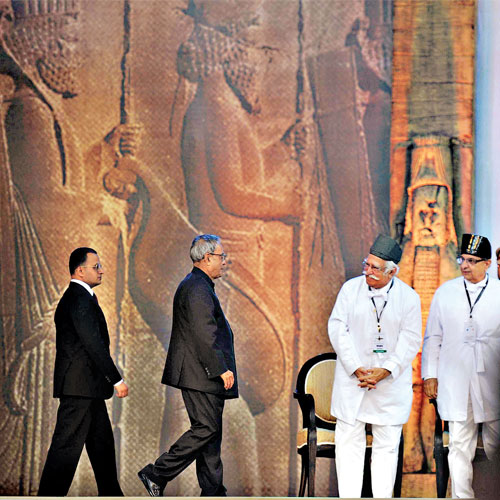 The first day of the 10th World Zoroastrian Congress (WZC), saw varied views expressed on the Parsi- Irani Zoroastrian identity. While some spoke on what needs to be done to preserve the identity, others on why the identity was disappearing and few on how they managed to keep it intact.
Speaking first at the 'Panel Discussion: Affirming the Global Parsi-Iranian Zoroastrian Identity,' Rohinton Rivetna, founder of World Zoroastrian Chamber of Commerce rated some 'identifiers' of Zoroastrianism on which the community was faring halfway or poorly.
On language, he said that value of linguistic bonding needs to be re-emphasized. On sartorial identity, he pointed out that it was fading because Iranians (in Iran) faced difficulties in wearing Sudreh and Kushti while in India, Parsis were neglecting it.
"Parsi names that help identity is slowly fading especially in the West. We are halfway in dismantling what our forefathers left. While evolutionary changes are partly responsible, unintended consequences of these changes can hit us hard," said Rivetna.
He also juxtaposed on what the community was missing out on and what it tried to achieve while dealing with issues like the marriage. "While we are endogamous, we are not exogamous," he said.
Dinshaw Mehta, chairman of the Bombay Parsi Punchayet (BPP) stated that one of the ways in asserting the identity was community housing, which one could see in Mumbai. "In Mumbai there is a strong cause of identity. Parsis are living in community baugs as a conglomerate. But I doubt, if there is a global identity of the Parsis," he said.
However, there were some like Sarosh Bharucha, head of the Zoroastrian Society of Ontario, Canada, who emphasised on how the community there had moved ahead while breaking the traditional ways of living and was thriving as a community.
"We do not ex-communicate our daughters and sisters, who marry outside the community. Women get the same privilege as men. Navjot and other ceremonies are carried for all regardless of the way they want their body disposed off," said Bharucha, adding "Each one for himself and Ahura Mazda for all" is the motto with which he works.
Ketayun Kapadia, blamed the Parsis for the declining values amongst their children. "We have an abysmal record of education. If there is anyone, who is to be blamed it is the parents. We should institutionalise youth to roots."
Successful but shirnking
Followers of one of the world's oldest religions, many Parsis are descended from Persians who fled to India to escape persecution more than 1,000 years ago.
This group went on to become one of India's most successful communities, which includes industrialist Tata family and the late Queen singer Freddie Mercury, the son of Parsi migrants to Zanzibar.
Scattered across countries including Iran, the US and UK, their estimated numbers have dropped by more than 10% between 2004 and 2012 to fewer than 112,000 people.
In India, where most Zoroastrians live, the numbers have halved since 1940 to about 61,000.
The religion
It is based on a equation of good (Ahura Mazda) versus evil (Ahriman). Good symbolises creativity, and evil is tantamount to destruction – in case there is more evil in the world than good, the planet will be destroyed, so all Zoroastrians must vow to live by the motto "good thoughts, good words, good deeds".