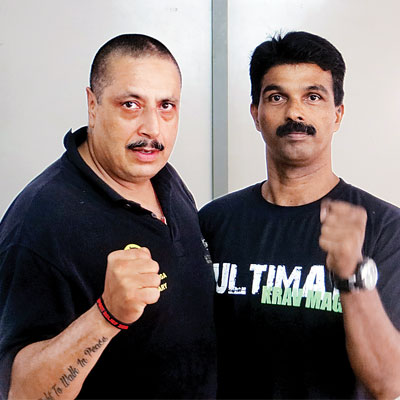 Ultimate Survivor Krav Maga is one of the few things that has become highly popular in the city. It is an integrated self defense system that doubles as an effective workout. Having spent a while studying
this system, I decided to describe what it is to attend one of these classes in the wake of the massive workshop hosted on the weekend.
Learning Ultimate Survivor Krav Maga is very different from learning any other martial art, with the emphasis being on effective technique for the street. Sensei Sadashiv Mogaveera said, "On the street, your belts or certificates don't matter, only the intelligence of your technique and tactics do." He puts every word of that into practice for each class he takes. At the end of each class, students build confidence and awareness that they can put into practice almost instantly.
During the workshop, students got exposure to a workout designed to build strength instead of just aesthetics. The workout is harder than what you would get at a gym, but isn't too much to handle. This is because Ultimate Survivor Krav Maga is designed to work on the street, the techniques are designed to work for hand to hand combat, against a stick and even a knife or gun, in some cases making you realistically prepared for whatever it is that might happen on the street.
The blocks and counters that are taught take into consideration what the natural response of the body will be in a situation and build an effective defense or counter-attack from that position, instead of
having to memorise and master difficult moves.
"100% defence is not enough, with the combination of body defence, which is moving out of the range of attack and a block or counter, you can effectively mount a 200% defence," said Vicky Kapoor, global instructor team at IKMF.
There are regular classes held by master Sadashiv Mogaveera and his team in Bandra, Vile Parle and Malad. Vicky Kapoor and his team have their centers all over India, Sri Lanka, Nepal and Thailand. If this experience is something you would like to have, then you should definitely give it a try.