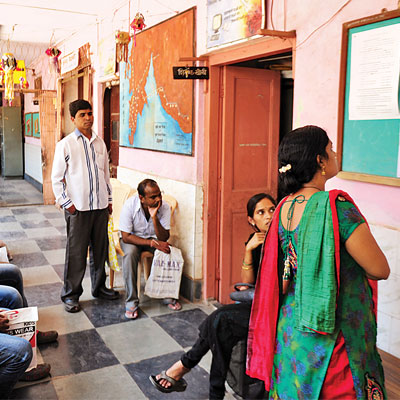 On day two of the online admissions for 25% seats reserved under the Right to Education Act 2009, the help centres saw more number of parents queuing up for admission and many filled up the forms on their own.
By the end of the day, 463 forms were uploaded externally and 143 were uploaded across the 26 help centres. "A lot of parents have come to the centre today because the message has been spread by word of mouth. However, not many knew about it on Thursday," said the in-charge at the help centre at SS Vaze School, Mulund. While the centre saw only around 10 parents visiting on day one, on Friday there were over 30 parents.
However, several parents who came to the centres were unaware about the process. "Over 20 came to the centre, but left without filing the form when they were informed that the admission to our school was not being done through the online process. Parents do have a preference and due to lack of information they do not know which schools are included," said an official from SIES School, Matunga.
The online process is applicable only to unaided non-minority schools. The other schools will conduct the admission on their own.
Parents were also miffed due to the lack of choice in selecting the schools. "I do not want to enrol my son in an ICSE school. However, as soon as our residence was mapped on forms, the first option available was Pawar Public School, which follows the ICSE curriculum and I have no option but to select that as the first preference," said a Mulund resident.
However, authorities have assured that the parents will get a chance to opt for the other options selected too. "Parents can select up to three schools. If they get the one which is not their preference, they will get a chance to select from the other two schools in the next rounds," said Shambhavi Jogi, BMC education officer.
At a centre in Pragnya Bodhini High school, over 30 parents were turned away. "We were told that the centre had distributed tokens to over 12 parents who had come on Thursday, but could not fill the forms. So on Friday, they were busy uploading the forms for those parents. They asked us to return a few days later," said Avisha Kulkarni, RTE activist, who had accompanied the parents.