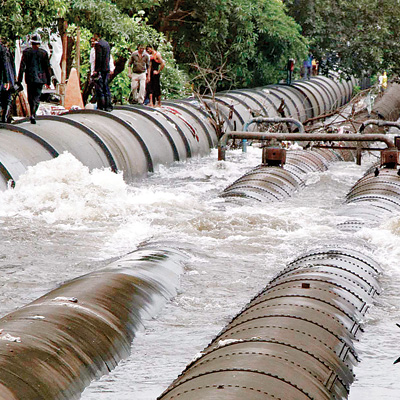 The Brihanmumbai Municipal Corporation (BMC) has announced water cuts in island city and suburbs after one of its major pipelines, the Tansa water main, burst in Thane on Monday afternoon.
The incident occurred at around 2.30 pm when the nearly 150-year-old 1800 mm (72 inch) pipeline burst at Vartak Nagar in Thane, leading to wastage of litres of water.
In the wake of the incident, the corporation has announced 25 percent water cut in island city (Colaba to Sion and Colaba to Mahim) and western suburbs (Bandra to Dahisar). The civic body has also implemented 10 per cent cut in eastern suburbs (Mulund to Kurla and Kurla to Mankhurd).
On learning about the incident, the BMC employees rushed to the spot to carry out the repair work. The repairs are expected to be completed by Tuesday evening.
"Prima facie, it appears the pipeline burst on account of growing old. We have deployed a team of 50 personnel on the spot to fix the problem. The pipeline is expected to be fixed by Tuesday. The water cuts will be executed until the repair work is completed," Ramesh Bambale, hydraulic engineer, said.
The official also requested residents to use water sparingly until the problem is fixed.
Meanwhile, unconfirmed reports claimed two people were left injured following the pipeline burst. Civic officials said they have not received any such information until going to press.
This is not the first time the pipeline, which carries water from the dam of the same name, has burst. Last year, BMC had to implement 50 per cent cut in entire city after the Tansa main burst at three locations outside Mumbai. The pipeline had burst at BMC's Agra Road Valve Complex (ARVC) in Bhiwandi, Chinchwali and Kalyan-Bhiwandi (KB) Bridge areas in rural Thane. The problem was fixed after over a 24-hour struggle.