Officers from the H-West ward demolish a 50-year-old fish storage tank without prior notice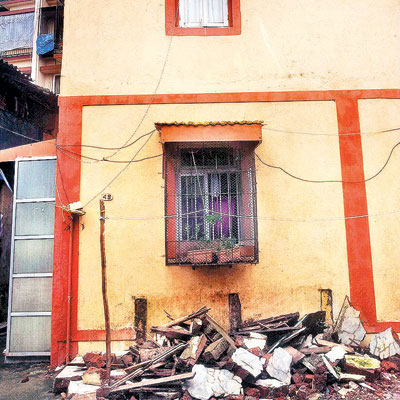 The BMC recently demolished a 50-year-old fish storage tank that was attached to a house in the 500-year-old Chimbal Gaothan area of Bandra, without any prior notice. The occupants of the house, which is over 100 years old, has written to the municipal commissioners demanding justice.
James Dharmai, 47, a licensed fisherman, lives in the house with his wife Leena, 39, and their two children, says, "The tank was attached to my home for the past five decades and the officials demolished it without any prior warning. At the time, I was asleep and my eight-year-old daughter screamed for help when she saw the JCB machine that the BMC had brought. I then tried speaking to the officials, but the cops, who had come to provide security, did not let me."
The tank had been rooted to the house even before the pucca roads were laid around gaothan. Dharmai believes that this tank cannot be called an illegal structure, given that it has been around for over 50 years.
"The tank had four thermocol boxes in which we would store the day's catch, but they have also been destroyed," says Dharmai's wife Leena.
The Dharmais have written a letter to the fishing department secretary Mahesh Pathak, BMC Commissioner Sitaram Kunte, additional municipal commissioners Sanjay Deshmukh and Mohan Adtani and even to the Danda Machimar Society.
Anil Joseph, Chairman of the Perry Road Residents' Association, says, "The Dharmai family has forwarded a complaint letter that demands action against the ward officer who approved the demolition without any prior notice. They have also asked for compensation for the loss suffered."
We spoke to Prashant Sapkale, Assistant Municipal Commissioner, H-West ward, who says, "We never demolish any structure without any prior notice. I am not aware of this issue and will surely check with the designated officer soon. It might be possible that the family would have been building an additional structure on it, may be that's why, it might have been demolished. But still, we wouldn't do it without serving a notice or at least a 24-hour stop-cause notice."