With families going away on long trips, summer holidays are the optimum time for thieves to strike, say police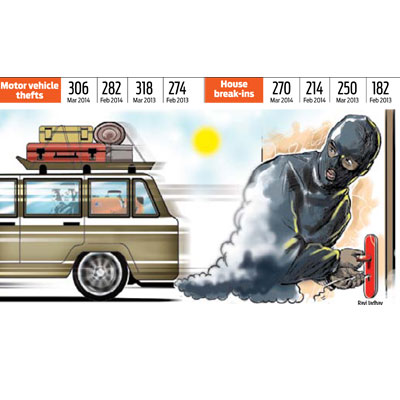 Finally, it's vacation time! You probably have been waiting for it eagerly to zip away with your family for a nice long break. But you know who else has been waiting for vacations eagerly? Thieves.
With the start of summer vacations, many families plan trips to their native places or elsewhere and, hence, this is the time most burglars and vehicle thieves strike with homes being empty and cars and two-wheelers lying parked on residential premises.
Statistics made available by the Mumbai Police confirm this with maximum number of burglaries and vehicle thefts reported in the months of February and March.
Both these crimes are a nuisance for the police department and it is steps to bring the numbers down. While in case of motor vehicle thefts, a special squad has been set up to keep a tab on such incidents and detect them, for house break-ins, each police station has been asked to keep a close watch in its vicinity, especially during the night, the preferred time for burglars.
A senior police officer said during vacations, gangs monitor flats in which lights have not been switched on for a few days. This gives them a fair idea about those that are locked. Similarly, vehicles that are left unattended for several days come under their radar. The police said vehicles that are parked on the road are more likely to be stolen than those which are parked inside a housing society or any other guarded place.
However, officers also said in many cases it has been found that the security guards or house helps are involved in tipping off or conducting the crime themselves. "It is better to keep lights on in at least one of the rooms and not give away the exact duration of your absence," said a senior officer.
A crime branch officer said that while a few years ago house break-ins were prevalent during nights, now, there are gangs that specialise in striking during the day.
According to the police, the rise in the house break-ins and vehicle thefts is because most accused manage to get away with them, the only exception being history-sheeters, who have similar cases registered against them. The second-most important reason for the rise in the number of such cases is new gangs in the fray.
"In metropolitan cities like Mumbai, people tend to mind their own business. In many cases, people do not even properly know what their neighbours do or whether they own a vehicle. They prefer keeping to themselves and, most of the times, their doors are locked. Hence, when the thieves strike at a house or steal a vehicle next to theirs, they are not even aware until the arrival of the police," said a senior crime branch officer.