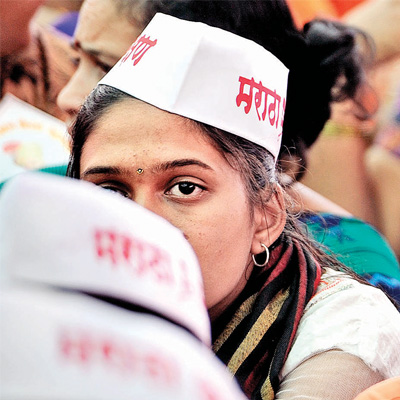 While the government has granted 16% quotas to Marathas on grounds of educational and social backwardness, its claims that the community forms 32% of the state's population has been contested by OBC activists and critics, who say the numbers have not been derived from any caste-based census.
The state Gazetteer department's publication "Maharashtra: Land and its People" said according to the 1931 census (last caste census), the total Maratha and Kunbi population "living in present Maharashtra was 77,12,030 and constituted 23.63% of the total population."
The Marathas (warriors) and Kunbis (peasant tillers) are largely endogamous groups considered part of one caste cluster. These two terms are interchangeable though Kunbis in some regions like Konkan, Vidarbha and Khandesh are deemed to be different from Marathas and have various sub-communities. The Kunbis are already included in the OBC category. The term Maratha is otherwise used to represent people of Maharashtrian origin.
"There has been no social and caste census. How can these figures be considered to be correct?" questioned Nitin Choudhari of the OBC Mukti Morcha, adding that it was impossible to arrive at any conclusion by surveying just 4.5 lakh families like the committee under industries minister Narayan Rane had done. Choudhari has termed the figure as "unscientific, lacking evidence, and was meant to misguide".
"The number of Marathas not covered under reservations, as the Kunbis are already in the OBC category, is not over 16%," claimed writer and activist Sanjay Sonawani. He said that the percentage of OBCs in Maharashtra was estimated to be 52% and if Marathas were considered to be 32%, it was not possible that other social groups like Muslims, Brahmins, Dalits, tribals, Jains and Sikhs would fit into the remaining 16%. Sonawani added that many Marathas had already secured Kunbi caste certificates.
He stressed on the need for a caste-based census and added that "since this would reveal the actual number and strength of various communities, the dominant castes were against it and hence, this was not happening."
However, Pravin Gaikwad of the Maratha outfit Sambhaji Brigade said, "Marathas in Maharashtra were all Kunbis except in some areas. "If 32% Marathas were included in the OBC category, then this would have been unjust for other OBCs. Hence, the state government in the interests of social justice, created an educational and socially backward group in which Marathas were included on Constitutional grounds," he added, noting that similar reservations for the handicapped, project affected and sportsmen also existed.
Gaikwad said that when the 1881 and 1931 census was conducted, the present day Maharashtra did not geographically exist. He added that the committee under Rane had surveyed 10% of the state's population and villages, talukas and districts to examine the conditions of the Marathas in Maharashtra.