Civic body to switch on real-time tracking system in a fortnight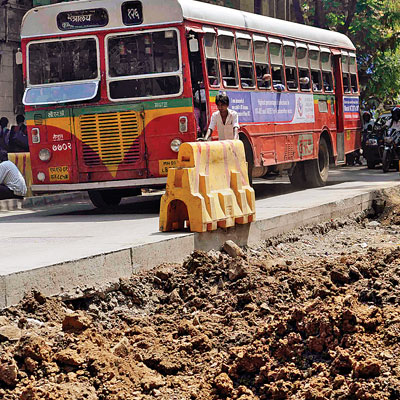 After dilly-dallying on strict monitoring of road repair works for over two years, the civic body will switch on a real-time tracking system within a fortnight.
The software, called "Live Works", will enable the Brihanmumbai Municipal Corporation (BMC) to check ongoing work, through pictures from the spot and details about materials being used that will be accessible at any time.
The decision to adopt the IT option was taken after the civic body received considerable criticism for the poor quality of roads and inferior repair work.
"Live Works" cost Rs30 lakh and it will cover training for staff and repair work contractors, as well as maintenance of the system.
Several major roads are being repaired currently, and much of this is happening in the suburbs. Last month, the roads department initiated work on a master plan to improve the condition of 1,000 roads. It hopes to complete the work before the monsoon.
The BMC has approved an expenditure of Rs3,000 crore for the first phase of the work which is expected to cost Rs7,774 crore.
"Officials who want to monitor the quality of the work being done at any given time would be able to take a look at the pictures of a certain stretch at that time," a senior civic official explained.
According to officials, for roads where the trenches run continuously for about 500-600m, a live tracking system has been installed which will take a picture of the work and upload it on a website called voiceofcitizen.com.
"Sensors on the machinery in operation will help to detect the granularity of the materials used and the temperature of the material that is critical for laying new surfaces," said SVR Srinivas, additional municipal commissioner.
Srinivas explained that the optimum temperature is around 140 degrees Celsius. "Beyond that is not good for the quality of roads," he said.
"The live data would be transmitted to our office, making information about any road accessible to our officials at any given time. The system would eliminate manual interference completely," he said.