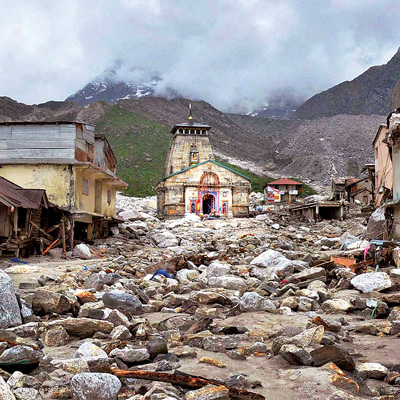 With tourists from Maharashtra forming a considerable number of the total number of visitors to Uttarakhand, the state tourism board has begun the exercise of attracting Mumbaikars for religious tourism of Char Dhan yatra, which is all set to begin from next month.
The efforts on part of Uttarakhand government come in view of the death of thousands of devotees who lost their lives last year during the pilgrimage, after a flash flood hit certain sections of the state. Also, business to the tune of Rs1,200 crore, creating fear in domestic as well as international tourists. The tragedy was unfortunate for the livelihood of Uttarakhand as 30 per cent of the economy is dependent on tourism.
Speaking to dna , Dr Umakant Panwar, secretary, Government of Uttarakhand, said that taking lessons from last year's tragedy, the state has plans to contain the number of visitors at any given point of time. To enforce their plan, tourism department has made arrangements for mandatory biometric registration of the all the visitors. Also, each of the visitor will be tracked with a GPS-based monitoring system.
"This way, we will not only be able to keep a check on the number of visitors coming to the state during the pilgrimage or for adventure/leisure tourism. At the same time, through GPS system, attempts will be made to make their journey safe as regular updates will be sent to them based on their location," said Panwar.
The routes to pilgrimage sites of Badrinath Dham (abode), Kedarnath Dham, Gangotri Dham, Yamunotri Dham and Hemkund Sahib will open on different dates of May between May 2-25, the state tourism officials said.
The state government has created more than five base camps, 48 wayside ameneties, seven ghats, 12 night shelters for the upcoming religious tourism season of small Char Dham. The pilgrimage, which starts during summer, has been popular since ancient times, as it involved difficult and arduous trekking through the hilly regions of Uttarakhand and is considered to be highly auspicious among Hindus.
Further, to make the region more comfortable for food-loving travellers from Maharashtra, the state corporation is making efforts to serve local (Maharashtrian) cuisine during their stay. "We are also taking cooks from here," said Panwar.