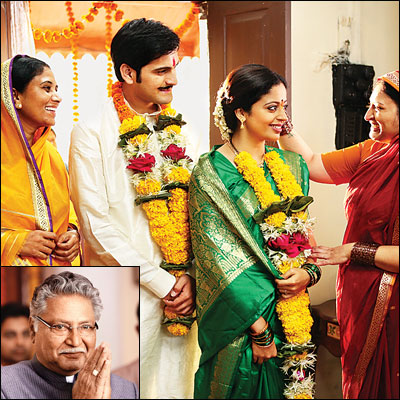 A new Marathi film Doosri Goshta, which looks at the travails of a Dalit boy born to one of the lowest castes, the Dhor community that skins dead cattle and sells the skin for a living, rising on to become the Union home minister, has led to much anticipation because its track follows the incumbent HM Sushilkumar Shinde.
After all, Shinde's life has seen him struggle for long. He was the first Solapur sessions court choufdar (the turbanned, liveried peon who waits on the judge), where he served from 1957 till 1965, rising on to become bailiff. Later, he became a constable in the Maharashtra Police and rose to become a sub-inspector with the state CID for six years.
He later joined politics, becoming the first Dalit CM from January 2003 to October 2004 (a wait of 50 years since the state's formation) before being appointed as the governor of Andhra Pradesh till he went to the Rajya Sabha for the second time on January 29, 2006.
The man, who headed the power ministry for six years and was made HM in 2012, says he's heard of a film based on his life in the making. "But no one has approached me formally to seek permission, so it must be merely what they call 'inspired' by my life," he laughed in his signature style.
Shinde, whose life has inspired a documentary by Doordarshan in the past, refused to spell out how he felt about getting to soon see his life on screen. "See, this is the election period. I don't think I want to say anything right now. Once I see the film, maybe..."
Filmmaker Chandrakant Kulkarni, whose film Aajcha Divas Majha won the National Award, says, "We wanted to tell the incredible journey of a common man. At a time when the idea of India is being questioned, we want, in a way, to reaffirm that despite our flaws, even the humblest Dalit can rise to the top. While attacking much that is wrong with us, why can't we celebrate the good?"
He should know what he's saying. After all, this ace theatre and film director, script writer and actor is known for directing critically-acclaimed plays Wada Chirebandi, Dhyanimani, Gandhi Virudh Gandhi and, most recently, the remake of Hamidabaichi Kothi. He has also directed the acclaimed films Bindhaast (1999) and Tukaram (2012).
He avoids a direct answer to repeated questions on whether he will invite Shinde to watch the film, which hits the screen in 172 theatres across Maharashtra on May 1. He vehemently says his film is not a hagiographic biopic. "That'd be the easiest thing to do. If I was out to do that, I'd plan to release it before the elections and wouldn't have waited for the state to finish voting," he underlines and adds, "The film does not shy of looking at the character, warts and all. We are not trying to make a PR film here."
While Ajit and Prashant Dalvi have shouldered the responsibility of story, screenplay and dialogue, Doosri Goshta has been produced by Dr Shailaja Gaikwad, Manjiri Hete and Prasad Mahadkar.
Veteran national award-winning actor Vikram Gokhale plays the protagonist and his younger avatar is played by Siddharth Chandekar. Anand Ingale, Sandeep Mehta, Neha Pendse, Aditya Ganu, Bharati Patil, Smita Sarvade, Sunil Tawde, Girish Joshi, Mugdha Godbole and Renuka Shahane form the cast of the film shot in Delhi, Mumbai and Solapur.