Restaurants here have been using space for commercial activity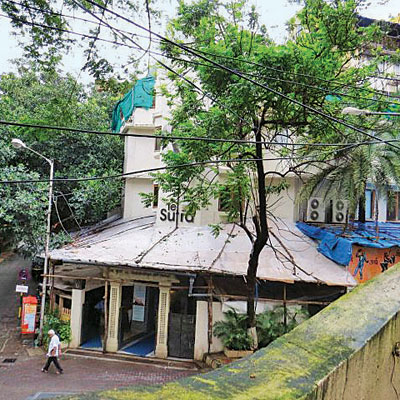 The BMC has issued notices to three popular eateries in Khar that have built temporary monsoon sheds outside their premises. The BMC has alleged that the eateries have used this section for commercial purposes, which they claim is illegal. The restaurants have now been given 15 days to remove the temporary sheds.
The Union Park Association in Khar has been pursuing the authorities to check the violations made by the eateries. Restaurants such as Nido, Olive Bar & Kitchen and Le Sutra are three of many popular spots which built sheds due to the monsoon and have allegedly used this space for commercial purposes.
Bharati Kakkad, Secretary, Union Park Association says, "We have been in touch with the BMC over this issue since 2004 and it has finally taken action against the perpetrators."
Residents feel that the restaurants in this area are a general menace. Surekha Kotwani, the association's treasurer says, "My society is situated right next to Olive Bar & Kitchen, while the kitchen of Out of the Blue touches the society wall. A few months back, gas cylinders were kept on the street just outside their eateries. Now, they have installed gas pipelines, which are equally dangerous."
Kotwani also alleges that the bamboo used to erect the monsoon shed and cover the kitchen has been dug into the footpath. "They have ruined the paver blocks. In addition, I am not too sure of their fire safety," she says.
Last year, the Khar police station, the fire department and the traffic police objected to so many eateries, which popped up in a 500-metre radius. "We conducted a fire audit of the restaurants. It showed that most of the restaurants pose a fire hazard. We have a copy of the letter from the Khar police station stating that in case of any emergency, rescue efforts will be stalled."
Prashant Sapkale, Assistant Municipal Commissioner, H-West ward, says, "We have served multiple notices to the eateries on that road and they had challenged these in the civil court. Now the cases are pending in the high court. Once the court stay is removed, we will take action."
Nagesh Tolar, manager of Olive Bar & Kitchen, refused to comment, and the other restaurant managers remained unavailable despite several attempts to get in touch.