Even as the transport undertaking maintains that having Tata Power in the fray won't affect its revenue, consumer activists highlight some concerns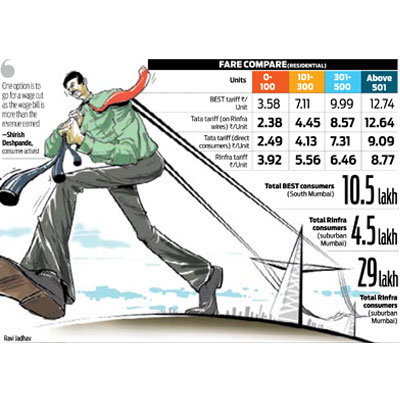 With Supreme Court paving the way for Tata Power to supply electricity in the present market of island city dominated by Brihanmumbai Electric Supply and Transport (BEST) Undertaking, the latter is putting on a brave face by stating its power and transport services will not get affected in any manner. Consumer activists, however, feel otherwise.
Experts said it is certain that migration from BEST to Tata Power will result in electricity bills going down, but, on the other hand, maintaining the fleet of 4,336 buses and servicing commuters will be a subject of concern.
"BEST's financial situation is bound to take a hit. The grossly subsidised transport wing does not have many options to salvage itself. One option is to go for a wage cut as the wage bill is more than the revenue earned. Another option is fare revision, but even that has some limitation due to competition from share taxis and autorickshaws," said Shirish Deshpande, a consumer activist.
Already, the daily ridership on BEST buses has come down from 50 lakh to 39-40 lakh passengers. Presently, earnings from distributing power in south Mumbai helps in salvaging transportation needs of Mumbaikars, but the SC order has put a question mark on the fleet's future, which BEST officials reiterate isn't worrisome.
"Transport services will continue as before, shifting of power consumers will not reduce our revenue because they will be paying Cross Subsidy Surcharge," said BEST general manager Om Prakash Gupta.
Moreover, in the ongoing fiscal, for the first time in 108 years, BEST has sought financial assistance from the Brihanmumbai Municipal Corporation. It will get Rs150 crore in the year 2014-15 — Rs12.5 crore every month — through Dedicated Urban Transport Fund. But it is uncertain if this aid will be available in the subsequent years.
Independent professionals say it's time to completely revamp the BEST for a turnaround in its economic situation or opt for privatisation or allow other players in the transportation segment.