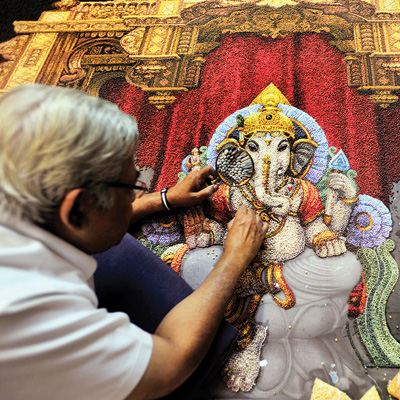 On the fifth day of Ganpati immersions on Wednesday, noise pollution levels recorded by an NGO, Awaaz Foundation, reveal that while they continue to be high with respect to the permissible levels (see box), they were lower compared to recordings made last year.
The noise levels were recorded in different parts of the city. While in 2013, the highest recorded level of noise pollution was 112 dB, this year's highest on the fifth day of immersion stood at 107.2 dB. Noise from loudspeakers, dhol, DJs and firecrackers were considered while recording the noise pollution level.
While an elaborate data of the previous year recorded by the NGO was not available, members of Awaaz Foundation stated that the route was similar to the one considered this year. The noise recordings were divided into areas of south Mumbai, western suburbs and one place in the eastern suburbs. Pollution recordings were taken after 10pm too, when use of loudspeakers are not allowed.
Unfortunately, during both the years, the highest noise seemed to have happened after 10pm. Last year, the noisiest place was Ranade Road, Dadar, around 10.30pm. This was followed by 110.3 dB at Santa Cruz around 11.15pm. This year 107.2 dB was near Atria Mall and 105.5 dB near Girgaum Chowpatty.
"The noise measurements were recorded as environmental noise on the periphery of the actual processions, and are typically lower than the noise measured from instruments at close quarters, although participants are exposed to significantly higher noise levels," said Sumaira Abdulali of Awaaz Foundation, which measures noise every year. This year, the recordings were done by a volunteer, Dr G Kolhatkar, instead of Abdulali.
"But the real noise pollution will be known only on the last day of the immersion. The pollution level on the fifth day is anyway less," said Abdulali.
This time, noise pollution levels were recorded by Maharashtra Pollution Control Board (MPCB) too. It has recorded pollution levels for the first two days covering a larger area and have put it up on their website. As per their findings, the maximum level for both the days as compared to the previous year was more. While on the first day the maximum and minimum stood between 98 dB and 42 dB this year, it was 89 dB and 49 dB last year. Second day's reading were 103 dB and 57 dB this year and 96 dB and 52 dB last year. However, the average of all the places covered was similar.
Abdulali said, "AS per our findings, political parties are the biggest offenders. They go on with their dhols. The police need to take some action on them."
Abdulali has written a letter to the CM on the issue.
Permissible decibel levels
Silence Zone
6am to 10pm – 50 DB
10pm to 6am – 40 dB
Residential
6am to 10pm – 55 dB
10pm to 6am – 45 dB
Commercial
6am to 10pm – 65 dB
10pm to 6am – 55 dB
Findings on fifth day
Time
Place
Db(A)
Comments
8-10pm
Near Khar Telephone Exchange
91.1B – 100.9dB
Dhol, banjo, DJ, loudspeakers
Near Santa Cruz Police Station
90.2 dB
Loudspeakers, dhol etc
Juhu Tara Road
80.4 dB
Procession with drums loudspeakers, firecrackers on road
Political Party Booth , Juhu Tara Road
98.3
dB
Loudspeakers
Juhu Chowpatty
91.9dB
DJ with loudspeakers
Near Housing Development Corp, Matunga
91.2 dB
DJ Loudspeaker
Mahim
90.1 dB
Political party booth
Near Prabha Devi
88.2 – 91.9 dB
No processions
10 -11pm
Opposite Navneet Motors, Near Atria Mall, Worli
107.2 dB
DJ , loudspeakers
Opp Jaslok hospital, peddar Road
94.1 dB
DJs
Girgaon Chopatty
105.8dB
Firecrackers on road
Oppo Diagnostic Centre, Sion
101.4dB