73-yr-old has been handling jaywalkers, signal breakers & managing traffic daily for two hours.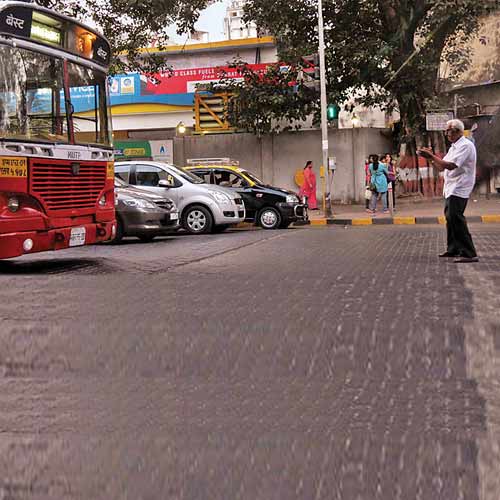 He shouts at the top of his voice whenever he spots a jaywalker and stands with his hands folded facing the vehicles whenever there is a signal. No, he is not a traffic policeman. PS Subramanian, known as 'Uncle' to the commuters, is a self-employed 73-year-old senior citizen who regulates the traffic at King's Circle (Matunga) daily from 5.30pm to 7.30pm.
Subramanian has been doing this for eight months. But what made this man, who was a consultant with Coastal Regulation Zone, do this? "I found it difficult to cross this road, despite the zebra crossing here, when I used to go to the garden with my granddaughter. I saw many elderly, women facing the same problem. So, I thought of cutting short the time I spent with my granddaughter and help these people, because this place is accident-prone and vehicle drivers have a tendency to jump signals," he said.
"I fold my hands in front of the vehicles because I think the BEST drivers are very nice people. And if an old man stands with folded hands, cabs and private cars will at least try and not succumb to the temptation of breaking the signal. This is a stronger weapon than using a stick," he added.
Subramanian does this for free for the citizens and started it only after informing the Matunga police. He is also feared by people, mainly youngsters.
While talking to dna, standing in the middle of the crossing, he shouted out to a bunch of students: "Come on the zebra crossing please, this isn't a garden that you go anywhere you like."
He also screamed at a cab driver, who stopped for a passenger in the middle of the road. "How can you stop here? Aage lo (take it ahead)." Being a keen observer, he also stopped a car and requested the person sitting next to the driver to wear his seat belt.
Uncle hates honking and himself does not use a whistle as he believes it leads to noise pollution. "I don't understand why the person behind has to keep honking. S/he should wait and not be allowed to go. Is the person a governor? Who is s/he? There are lots of hospitals around, they should think about the patients," he asserted, adding, "there are some miscreants who whistle, maybe to poke fun at me."
Subramanian, however, is unfazed and continues doing what he does. He learnt the traffic numbers and manners in no time. "All you need to do is keep counting the numbers and move your head to and fro," he said.
He added that he does his best to manage traffic at his crossing but the entire area is a nightmare, with respect to traffic, which is made worse by the fact that the signal at the crossing on the other side (towards Koolar & Co. Restaurant & Stores) has been out of order for six months. Written complaints were said to have been made but no action has been taken.