The gathering, 'Hamara Sangharsh Jaari Hai', taking place at Maheshwari Udyan (King's Circle), Matunga East, Mumbai will be attended by people from as many as 23 cities across India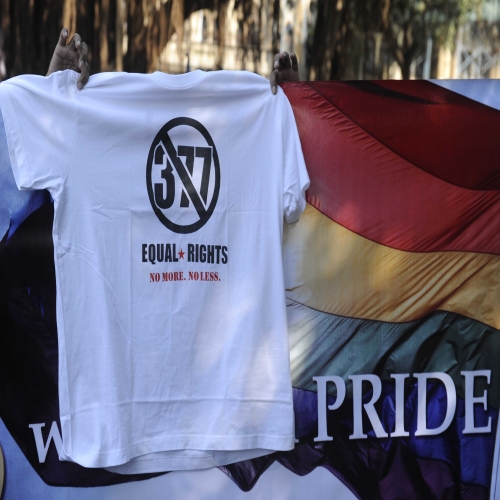 The Supreme Court a few days ago reversed the July 2009 judgement of the Delhi High Court which read down Section 377 of the Indian Penal Code, 1860.
The High Court verdict, hailed across the globe as a victory for the human rights movement, validated sexual activity between two consenting adults, irrespective of their orientation.
The High Court declared that insofar as Section 377 criminalised consensual sex in private, it violated the fundamental rights of Indian citizens, particularly India's stigmatised sexual minorities including lesbian/gay/bisexual/transgender/inter sexed/questioning (LGBTIQ) Indians.
Ironically, India's apex court chose the day after the world celebrated International Human Rights Day, to reinstate this regressive 153-year-old law India inherited from its former colonial ruler, which has long since discarded its own anti-sodomy law. The Supreme Court's judgement has in one swoop re-criminalised millions of India's vulnerable LGBTIQ people.
The court's decision refuses to recognise the continuum of harassment, stigma, discrimination, violence and torture faced by LGBTIQ Indians. It fails to provide the protection of fundamental rights to life, equality, dignity, personal liberty and self-expression guaranteed by the Indian Constitution to each and every Indian.
Hence the LGBT people of Mumbai, along with queer people in several cities across India and the world, are gathering on Sunday, December 15, 2013 at Maheshwari Udyan (King's Circle), Matunga East to express their dissent. The gathering 'Hamara Sangharsh Jaari Hai' (No Going Back) will be joined by people from over 23 cities (at last count) to express their feelings about this terrible action by a body that is meant to uphold rights, not take them away.
The gathering will take place at 4 pm and will end at 6 pm.
They are unequivocal about their charter of demands:
* Demand for the Delhi High Court Verdict in 2009 is made valid to this day and age with "NO GOING BACK" to criminalisation under Section 377.
* Demand equal rights in all legal forms. No more part measures.
* Demand zero discrimination on the basis of gender, sexuality and all forms of existing social, cultural and economic prejudice.
The Delhi High Court judgement of 2009 gave India's LGBTIQ persons the confidence to proclaim their right to equal citizenship, and they did so in greater numbers. The same judgement now reminds that rights cannot be conferred by the courts, but merely confirmed by them. Now, there is no going back. Rest assured they will raise their voices till the day they win decriminalisation again.
You can know more about the gatherings taking place around the world through their Facebook page