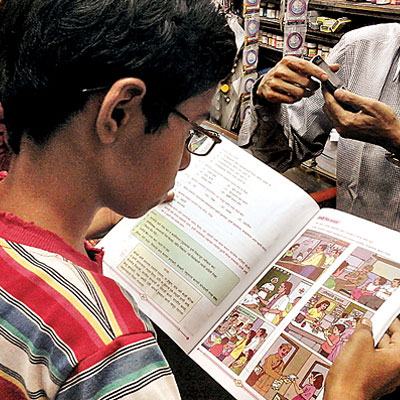 If entering one of the most crucial class (standard X) for a student isn't scary enough, what makes it worse if the student haven't yet received their textbooks. This is what has happened to the students in the state as they have not yet received their history and geography textbooks. Shopkeepers claim that the books will be available only by June last week and this has left students wondering as to how they will attend school or classes without textbooks.
After facing problems last year for marking the wrong borders in the geography textbooks, this year to ensure there are no errors, the education board will send all maps to the Central Government's Survey of India for its approval. Only after this will they be sent for printing and publishing to the Maharashtra State textbook publication association, in this case Balbharti. But it is only now that Balbharti has received the approved copy.
They will now send it to print, which will take another 15 days, only two days later will it be available in stores. " The apporvals came late that led to the delay. History books will take another three weeks to be published. The printing and publishing takes time but we had to ensure that students are not misled and get proper maps and data," says Gangadhar Mhamane, director of Higher Secondary Education. He also ensured that by the time school reopens the books will be available.
Meanwhile, parents and students in the primary section are happy to see new textbooks available in the market. The cover page of the books have been made colourful and interesting to attract young readers, especially the language textbooks. Parents are also glad that the books are covered with a thin plastic sheet, which ensures the longevity of the books.