Girl's father, overcome by shock, suffers heart attack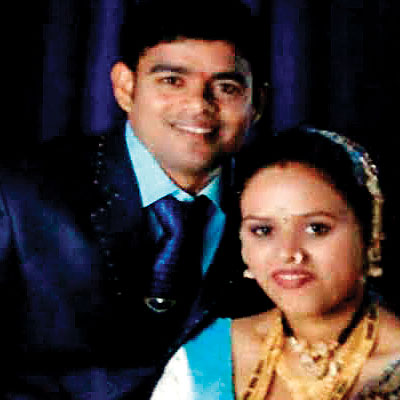 A newly married couple from Vasai died in a bike accident on the way from Vajreshwari temple to Mahalaxmi temple in Dahanu on Sunday evening.
Late on Sunday, after the news of the accident reached home, the girl's father suffered a heart attack and passed away.
According to the Virar police, the two were found lying on the road by passersby at Sakwar village. They were taken to a local primary health centre, where they were declared dead.
The police said that from the information available, the bike on which the couple was riding crashed into a truck that was parked on the road. Sakwar is on the way from Vajreshwari to Dahanu. The police have registered a case of accidental death and are looking for the truck driver.
Purshottam Bhadelikar, 28, and Meeta, 24, both from Koliwada village, were married on March 9. They had set out to visit Vajreshwari temple and then go on to Mahalaxmi temple to seek the blessings of the deities.
"We were informed by people from Sakwar village about the accident and that a couple lying on the road were not responding. They were taken to hospital, but were declared dead before admission," said a police official.
The bodies of the man and woman were handed over to relatives after a postmortem. "Soon after the family heard the news about the accident, Meeta's father suffered a stroke and died at home," the police official said. The father, Gynaneshwar Harnekar, 48, had been ill.
On Monday, a large number of Koliwada villagers, who had participated in the couple's marriage celebrations, came together and cremated the bodies of the couple and the girl's father.
"We could not believe it. Only last month we celebrated their marriage. It has been tough trying to console and support the family members. The entire village is in a state of shock," said Dileep Mathak, a resident of Koliwada.
"The couple were very happy. The father was very supportive of them. They wanted to seek the blessings of the goddesses," he said.