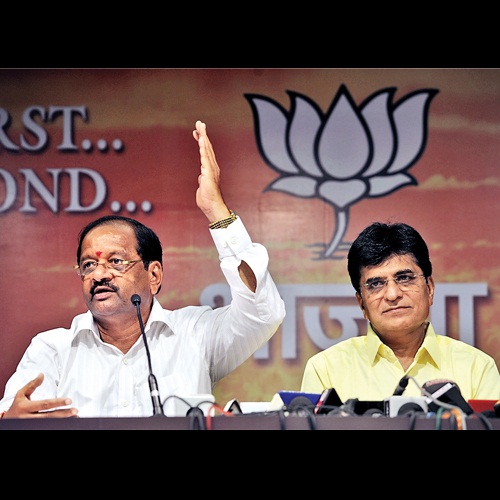 A team from the National Pollution Control Board (NPCB) will soon be visiting dumping grounds in Mumbai to inspect and examine whether unscientific dumping is carried out in the city. Mumbai North-East MP Kirit Somaiya and Mumbai North MP Gopal Shetty disclosed the information in a press conference, adding that they brought the issue to the NPCB's notice.
On the issue of the warship Vikrant, Somaiya said Union defence secretary RK Mathur has assured a review of the decision to send the vessel to Darukhana. Somaiya said there is a Supreme Court stay on the warship, which is docked at Gateway, but the Centre had obtained special permission to send it. Somaiya also said a memorandum signed by 22 state MPs was given to Mathur seeking a review.
"We also met the chief minister and requested him to have a positive approach, if the Centre agrees to maintain the warship as a museum," he added.
Somaiya criticised the state government and said the Metro is ready but, for some or the other reason, it has not begun operations. He also warned that if the fares are allowed to be set by the operator, it will become a permanent burden on commuters. He also highlighted the fact that several projects have not been able to move ahead due to lack of coordination between various agencies.
While saying the Kanjurmarg station expansion plan has been pending for the last two years, Somaiya promised to ensure that in the next one and a half years, a new platform and three new foot overbridges are built.
BJP criticised the railway ministry for not making any provision in the budget for raising the height of platforms and said special sanction had to be taken for Ghatkopar station. According to Somaiya, work on raising the height of 12 out of 54 platforms will begin before monsoon.
He also said he has sought a special meeting of all newly elected MPs from Mumbai next week to discuss issues related to Mumbai with officials from various agencies — MMRDA, BMC and Urban Development Department.
Refering to the problems of development, a result of restrictions on development around the Central Ordinance Depot in Malad, Shetty said the COD should be shifted elsewhere and the place could be used for a hospital or other public amenities. On the Campa Cola issue, Shetty said the bureaucrats were helping the builders and he would come up with a plan within the next two days on the issue.