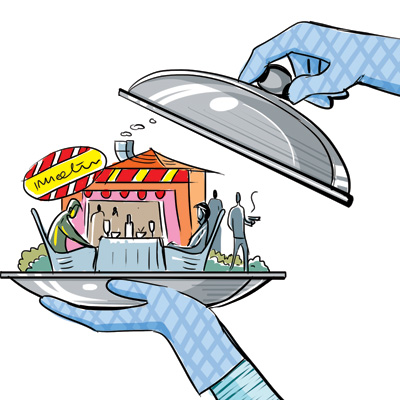 Mumbai, known for its prodigious and diverse food palette, is popping with restaurant concepts today that are changing its culinary landscape. The city has always been adventurous with its food, embracing street food with as much fervor as a Michelin-starred restaurant's fine-dining experience. Done and dusted are the days when eating out constituted a choice between the two extremes of the food spectrum – an Udipi or a five-star hotel. Mumbai's culinary journey has since evolved into a refined smorgasbord of eclectic choices in between, with pop up restaurants, microbreweries, Quick Service Restaurant (QSR) and Fast Casual Restaurant (FCR) concepts gaining ground.
"Concepts like interim / vacation pop-ups are a great stage for restaurants to make their presence felt in other cities before going the whole mile. With escalated rents, taxes, licence fees, bureaucratic hurdles in procuring liquor licences, it's quite daunting to start an outlet in this economy, but exciting nevertheless. So QSR's and pop-ups have great potential in Mumbai and it's time some home grown, Indian QSRs gave the international chains a run for their money," says Ankit Gupta, who owns Burma Burma, a vegetarian restaurant and Tea Room at Fort that specialises in Burmese cuisine.
So far, stand-alone vegetarian restaurants in the city have been the domain of South Indian Udipis and street carts, and the legendary Swati Snacks in Tardeo. The very thought of a vegetarian dining space sans alcohol was blasphemous! But Burma Burma, is a small step forward in the progressive food movement in the city. "The response has been overwhelming. It is a positive sign to witness a pure vegetarian restaurant that does not serve alcohol gain momentum and popularity. Burma Burma works on reservations only so that we can provide an exclusive tea and nouvelle Asian meal experience to our guests in a fine dining setting," adds Ankit, whose family has been in the hospitality business for over 40 years.
QSRs are aplenty in Mumbai with international chains like McDonalds and Dominos and Udipis, but Chops Away in Lower Parel, with the best Thai curry and Prawn Tempuras in the town, is the city's first home-grown QSR, owned and actualized by Glion graduate Samir Chhabria. Samir tasted success with the nightclub and fine-dining scene with the erstwhile Prive and Tetsuma in Colaba, roughly a decade ago, only to scale new ground with Chops Away in 2013. "Mumbai's escalating real estate has resulted in an excess supply / lesser demand ratio in the F&B business. To sidestep the financial constraints brought on by the economic slowdown worldwide, I chose the QSR model for my restaurant - well priced, hygienic and delicious food in a functional ambience. The food is the star at Chops Away. Ordering-in is more popular of late versus eating out in a city choked with traffic snarls, with the paucity of time dictating its eating patterns. The investment in one QSR establishment is anywhere between 25-40 lakh for an average 850-1000 square feet restaurant. A QSR does not need the best location, or a liquor licence like a fine-dining outlet does. In the same amount, you could open around four QSR establishments under the same brand name, which will give you more visibility and a higher cash flow than a single upscale restaurant," says Samir.
AD Singh flagged off the culinary journey of Mumbai with his first stand alone, fine-dining restaurant Olive Bar & Kitchen, in Bandra in 2000. From bar nights on Thursdays to the best Mediterranean fare, AD has many successful firsts to his credit. He's changed the game, again, with pop-up restaurants in the Mahalaxmi Racecourse edition of Olive, the first being Goa's Greek lounge Thalassa for eight months that has now given way to Guppy by Ai since early August, a Japanese restaurant in Delhi, also owned by him. "On one trip, I saw a Jamie Oliver pop-up in London that had been in existence for about a year. That was an eye-opener for me. Till then, pop-ups in the food business in India had been for a day or a weekend but now this new vision emerged of a 'Pop-Up and Stay a while" format. I thought we'd try it at the Olive in town as that had seen setback by the confusion over the Turf Club lease. After speaking to many restaurateurs the idea clicked with Mariketty of Thalassa and that's how we began. It was an immediate success," says AD.
The chefs of the participating restaurants at these pop-ups come in and curate/create the menu. Then the master chef/senior chefs are here for a considerable duration of the pop-up. "The Thalassa pop-up was very well received and we are looking to doing it now in another city and the Guppy pop-up has opened very well. We are particularly pleased that so far vegetarians are dining here in large numbers," says AD.
Tiffinbox etc., a Fast Casual Restaurant in the city's new business district, Bandra-Kurla Complex, is off to a good start with its Indian fare. Ashwani Basantani, Brand Head for Kishor Bajaj's Equity Brands that owns Tiffinbox etc., feels that "the future of the F&B business worldwide, is the entry of Fast Casual Restaurants (FCR)". "The factors that really influence people's food choices are convenience, speed, quality and value for money. What drives the food business today is the demand for high quality products at affordable prices and Tiffinbox etc. is specifically designed to meet those needs under the culinary direction of Chef Azad Taslim Arif," says Ashwani. "Tiffinbox etc. is the only restaurant in Mumbai which serves five different cuisines from Indian regions, considering the Average Per Cover (APC) spend is Rs 375 plus taxes. We have a lunch buffet everyday catering to the business crowd and the restaurant converts into an à la carte restaurant in the evening for a more familial crowd."
Chef Azad is very happy to "serve people from all walks of life." "It's a restaurant that accommodates everyone - a security guard who comes in for a cup of cutting chai and vada pav or a busy executive at the lunch buffet or a millionaire in his Mercedes who comes here to savour hygienically prepared street foods like pani puri, dal pakwan, keema pav, anda bhurjee, etc," says Azad adding, "We also have a "grab and go" counter at the entrance.
Microbreweries are a buzzing worldwide phenomena that are making their presence felt in the city, albeit slowly. BrewBot is the latest microbrewery and eatery to open in Andheri come September. "Brewbot is a casual dining space and bar. Le Cordon Bleu trained Chef Anand Morwani is creating our European and American food journey and our head brewer is the award-winning Julie Baggett who has been a professional brewer for the past 20 years. Brewbot is her third foray into brewing in India, having consulted for brewpubs in Gurgaon and Bangalore earlier. She's the first woman to brew in India and is excited to bring the British custom of cask ales for the first time here, as are we. Julie will be brewing four varietals with Indian spices and flavours when we open," says Ketan Sinh, one of the three partners of Brewbot.
With a new café, bar and restaurant opening every other fortnight in the city, world cuisine is just a reservation or take-out call away, with price points to match, with the new order of economically viable restaurant concepts leading the way.