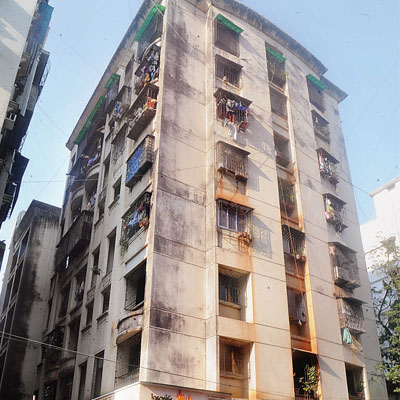 A new municipal school has not opened even eight years after the building was constructed in the plush Bandra (West) area, and the civic authority is unclear when the school will begin.
The five-storey structure for the school was constructed by a private developer along with a residential building for Slum Rehabilitation Authority (SRA).
But it seems that the Brihanmumbai Municipal Corporation (BMC) has not been able to take possession of the school building due to a variety of reasons.
The matter came up at a meeting, chaired by additional municipal commissioner Mohan Adtani, on February 15, when it was decided that the civic body would take possession on the building in a week. But more than a month later this hasn't happened.
A senior civic official explained that some major works for the building were pending. The walls were to be plastered, the drainage was not proper, electrical work was incomplete and there were even encroachments by tea vendors on the ground floor of the building. "The BMC was not prepared to spend the amount for this work," the official said.
Subsequently, BMC and SRA officials decided at another meeting to undertake the unfinished works and bill the expenses to the developer, Prarthana Enterprises. The school infrastructure cell estimated the cost of the work at Rs37 lakh.
The building is located on a 11,880 sq ft plot on the 29th Road and the built-up area of the building is about 8,800 sq ft.
The civic official said that the SRA executive engineer was to direct the developer to deposit the estimated amount with the school infrastructure cell and hand over the building to the assistant commissioner (estates) or the assistant engineer H/West ward.
However, SRA officials said they had not received the estimate. "We were expecting a report from the BMC about the estimate, but we have not received this so far. Only after that can we direct the developer to pay the amount," said an SRA engineer.
Asif Zakaria, civic corporator from Bandra who has been working on this matter over the past couple of couple of years, said he hoped to get the school operational for the new academic year.
"It is sad to see the lack of coordination between the agencies (BMC and SRA), because of which the school has not started yet," Zakaria said. "As many as 500 underprivileged children could benefit from the school once it is operational."
When dna called Adtani on Saturday, he said he was not in the city and that he would take up the matter again when he got back. "The developer has to release the funds soon, so the repair work can start. Else, we will have to take strict action against them," he said.