dna westcoast kick starts the 'Dread Walk' campaign to appeal to the BMC to fix faulty footpaths and cover open pits and drains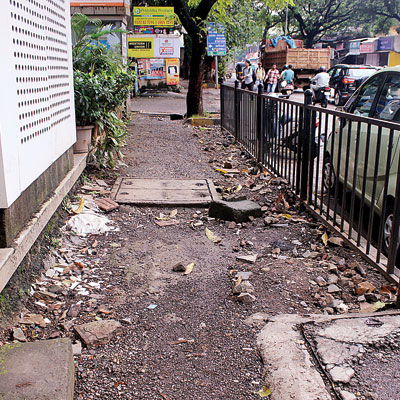 A major hassle that almost every westcoast resident faces, apart from the potholed roads, is the lack of footpaths to walk on. Most of the existing footpaths are partly broken, where pavement blocks are loosening up. Add to this, there are several pits and open drains waiting to swallow those who tread near them. And if you manage to dodge the pits and drains, there's debris piled up too, turning walking into a nightmare.
Given the pathetic condition of some of the roads and footpaths, dna westcoast initiates a campaign which begins this week, against such spots in six suburban wards. We want to make an appeal to the BMC, as having good, solid footpaths is a basic right of all citizens. We are starting with the P/North ward and the pictures show some of its sore spots.
We submitted an appeal to Devendra Jain, Assistant Municipal Commissioner, P/North ward. Jain says, "The locations of these footpaths and its pictures provided by dna westcoast will be checked. I will absolutely get these places fixed in one week, that is a promise. I am sharing the information and photographs with the concerned department and we shall get the work started immediately."