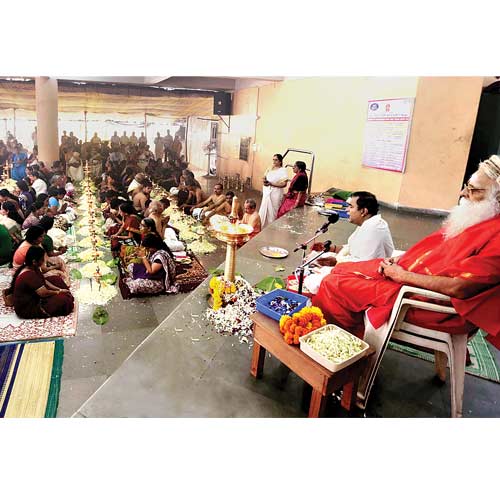 The well-known Nerul Ayyappa temple celebrated its 19th annual mahotsavam from November 26 to 30. It drew a great deal of devotees together, who witnessed various puja and cultural activities.
The festivities ended with an impressive procession of Lord Ayyappa, which started from the Shiva temple in phase II and returned to the temple in sector 17.
The mahotsavam mainly comprised elaborate puja and rituals performed by priests who were invited from Kerala.
K Sankar, trustee of the Nerul Sri Ayyappa Seva Samiti, said, "Ayyappa devotees from across Navi Mumbai visited the temple to be a part of pujas that included mahaganapati homam, kalasabhishekam, trikala puja, sarva aishwarya puja and sribhoota bali, among others.
Chantings and recital like Narayaneeyaparayanam and Soundarya Lahiri parayanam were also held. Yesterday a lot of devotees participated in the Laksharchana i.e. one lakh repetitions of the Lord Ayyappa's name." Annadanam followed all the puja for devotees to partake the prasadam. It was not only devotional, but also a cultural indulgence for the devotees as dance and music programme were conducted in the evening.
"Carnatic music performance, a Mohiniattam and Bharathanatyam performance by Sushma Gopinath and her son Rohit were also held in the evenings in the auditorium. Apart from this, children also gave music and dance performances," said VN Achuthan, trustee.
Thane guardian minister, Ganesh Naik and chief secretary, government of Maharashtra, TF Thekkekara also visited the temple during the festivities.
After the procession on Saturday, the idol of Lord Ayyappa was brought to the temple to perform 'araat' — the utsavar idol of the lord is bathed by the priests.
The 29th mandala puja celebrations that started from November 17 are also ongoing in the temple and will continue till December 27.
"We get a great response from devotees for the mahotsavam every year. And, during the mandala puja, men also start preparing for the Sabarimala pilgrimage. This year, we will be taking around 50 people to Kerala for the same," said Sreevalsan Menon, secretary of the samiti.