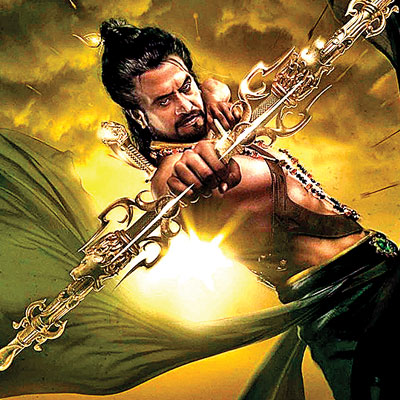 Pre-release negative publicity for Tamil superstar Rajnikanth's mega-budget film Kochadaiiyaan appears to have dampened the enthusiasm of thousands of his fans in the metropolis. Every time a Rajni flick is released, his fans gather at the iconic single-screen cinema hall, Aurora, at Matunga and perform pooja for the success of the movie. Not only the theatre, but its neighbourhood is also gaily decorated.
When Enthiran was released in 2010, a huge cut-out of the legendary actor was put up at the entrance of the theatre and an 'abhishekam' was performed with hundreds of litres of milk by his fans. But, this time around there is not even a fraction of the earlier enthusiasm. Said Nambi Rajan, a prominent Tamil film distributor who manages Aurora, "There will be none of the earlier fanfare. There will be no abhishekam. The initial reports emanating from Chennai appears to have upset Rajni's countless number of fans here."
One of the principal reason for the lack of enthusiasm is apparently the fact that it is an animated film. Rajni fans will not get to see him in flesh and blood in the same way that they used to see in his earlier films. "I am finding it difficult to accept my hero as an animated character," Venkateshwar Ram, a fan observed.
"In any case, people are always sceptical about experimental films," he added. However, Tamil film industry-watchers have stated that in the past also some of Rajni's films had received negative publicity, but subsequently they did rake in the moolah at the cash counters. Kochadaiiyaan is directed by the actor's daughter Soundarya and it has story by KS Ravikumar. The movie, which uses the motion-capture technology for the first time in India, has been made simultaneously in Tamil, Hindi and Telugu and is reported to be released in 3,000 screens across India on Friday. It also slated to be released in Japan, where Rajni's earlier film Muthu was a big hit.
"The superstar is known for his larger-than-life kind of roles and even though Kochadaiiyaan showcases the valour of Rajinikanth's characters in the movie. It is believed that the roles have failed to connect with the audience," according to an online review.