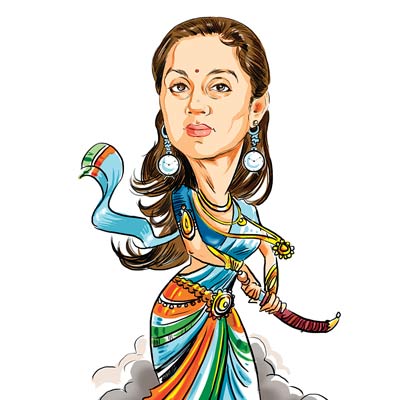 This time the NCP is confident women power will prevail and that the three women it has fielded for the Lok Sabha elections will easily sail through.
The party has always promoted women empowerment, deputy chief minister Ajit Pawar said, and added that NCP was confident about its women candidates winning.
The three nominees are Supriya Sule (Baramati), Navneet Rana (Amarawati) and Bharati Pawar (Dindori).
Sources said, Supriya Sule, NCP MP and daughter of Sharad Pawar, had extensively toured the state organising various women-oriented programmes.
"Sule has developed a solid network of young girls, who have political aspiration and want to do something for the society. This network will surely come in handy to get NCP's women candidates elected with good margins," said a source.
Navneet Rana cleared
TV actress-turned politician Navneet Rana, who was mired in a controversy over her alleged bogus caste certificate, can now breathe easy. The legal committee of the state government has not found anything wrong with her certificate. This is sure to boost her credibility.
To file nominations
Three candidates of the NCP will file nomination on Wednesday in Pune. They are Baramati candidate Supriya Sule, Rahul Narvekar (Maval) and Devdatt Nikam (Shirur). Sharad Pawar, Ajit Pawar, party state president Bhaskar Jadhav, and Jitendra Ahwad will be present when they file the papers.
Pratap Rao Dhakne joins NCP
BJP's Ahamadnagar district president Pratap Rao Dhakne joined the NCP on Tuesday in the presence of minister Madhukar Rao Pichad, revenue minister Bala Saheb Thorat, former minister and MLA Baban Rao Pachpute, MLA Chandra Shekhar Ghule and NCP district president Ghanshyam Shelar.
Controversial remark
NCP has already clarified its stance on the controversy regarding its chief Sharad Pawar's 'erase-the-ink' remark, party sources said. The party has received the notice from the election commission and it will send its reply clarifying its stand on Wednesday.