Tamilians and Malayalis in the satellite city celebrated Thiruvadirai on Wednesday, commemorating the birth of Lord Shiva.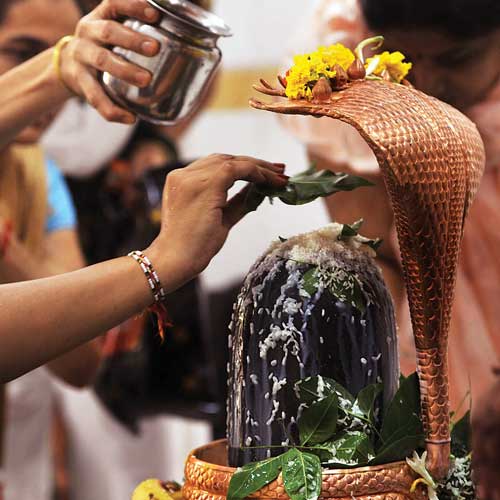 Falling in the month of Dhanu or Margazhi, Thiruvadirai or Thiruvadira is a festival celebrated with gaiety and devotion by Tamilians and Malayalis. It is mainly a women-centric festival where they perform various rituals for the well-being and betterment of their family members. This year, the festival was celebrated on December 18 by both the communities.
Thiruvadirai is considered to be the birth star of Lord Shiva that usually falls during this month. Elaborate rituals are performed in temples and shlokas are sung in praise of the lord throughout and libations are poured on the Shivalinga (abhishekam).
"The main meal prepared by Tamilians is the kali. It is a sweet prepared by coarsely powdering sautéed rice and jaggery. This is the only occasion in which a salty side dish is prepared for this sweet. Thalagam is similar to sambhar, but is made using seven vegetables and mostly the main flavour is of roasted and ground sesame seeds," says Vashi resident, Gayatri Ravishankar.
For Malayalis too, the festival is of great importance. Unmarried women observe a fast (by not eating anything made of rice) in order to get a good life partner and married women do the same by praying for the well-being of their family.
"Since we do not eat rice, the kali is made of arrowroot powder, jaggery and coconut. The vegetable preparation called thiruvadhira puzhukku of different kinds of tubers is also made on this day. Typically, we use potato, sweet potato, yam and raw banana," says Sumati Nair, a Malayali residing in Nerul.
Another interesting aspect for Malayali women is that they get together to dance thiruvadirai kali or kaikottikali that involves graceful steps and clapping of hands.
"Dancing with other women is the best thing to do and since this dance is not physically exhausting we go on for as long as we want. We ourselves sing songs for this," says Sunita Nair, who went to perform the dance with her friends.
Many also visited Shiva temples and were present for the special puja that was being performed for Lord Shiva.
Mythological significance
It is also believed that Thiruvadirai is celebrated to commemorate the death of Kamadeva, the god of love by Lord Shiva
When Lord Shiva was in deep meditation, Parvati performed a rigorous penance to attain him as her husband. And, with a little help from Kamadeva she succeeded in doing so
However, Shiva burns Kamadeva to ashes as the latter interrupted his meditation
However, with Parvati's pleas, Shiva resurrects Kamadeva. This is a belief mainly among
Malayalis and thus women celebrate Kamadeva being brought to life.