Party's city unit banking on welfare schemes by government.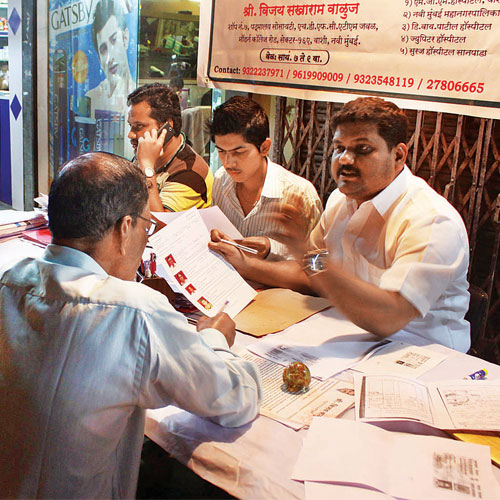 Besides hitting the streets over issues like power tariff and corruption in the NMMC, the city Congress unit, that has been harbouring ambitions to fight one assembly seat here, seems to have started its poll preparations. It is banking on welfare schemes launched by the government to make a grand political debut at the state level from Navi Mumbai.
According to sources, "City leaders are going all out to reach every section of the society." Rahul Gandhi, Congress VP, after electoral drubbing in New Delhi, had expressed there was a need to reach out to more people and take welfare schemes to them.
As a result, the party is leaving no stone unturned in taking the state government's ambitious health scheme — the Rajeev Gandhi Jeevandayee Arogya Yojana, which took off in Thane last month — to every poor person in the city. Besides setting up a centre to give details and guide people about the scheme at Congress Bhavan in Vashi's sector 7, several Congress workers, too, are coming forward to take this scheme to the people.
One such centre has been set up by Padmalaya society in Vashi's sector 16A by Congress worker Vijay Walunj. "We guide people, fill up their forms, collect documents, submit it to the tehsil office and also collect health cards of the beneficiaries on their behalf," Walunj said, adding, "We have been getting a great response from the people."
He said, "Poor patients can avail health treatment and facilities at reputed hospitals like MGM, Vashi and Kamothe, DY Patil in the satellite city. Residents having orange and yellow ration cards are covered in this treatment. People can avail benefit of up to Rs1.5 lakh to Rs2.5 lakh under this scheme."
Earlier, Congress leaders had hit the streets over power tariff issue and conveyed their sentiments to the state government. "We are in power because of people and if we are not able to work for them what is the use," Congress corporator Santosh Shetty had said. The state government had, a couple of days ago, slashed power tariffs for the entire state, except Mumbai, by 20%.
City congress leaders have been demanding an assembly seat and Maharashtra Pradesh Congress Committee leaders, too, have admitted the party should get one seat from the city. "In the absence of a local MLA, I understand how tough it is for our workers to function," said Manikrao Thakre, president of MPCC.
Jeevandayee Arogya Yojana
The objective of the scheme is to improve access of those families falling under Below Poverty Line (BPL) and Above Poverty Line (APL) (excluding white card holders as defined by civil supplies department) to quality medical care for identified speciality services requiring hospitalisation for surgeries and therapies or consultations through an identified network of health care providers.
The scheme provides for 972 surgeries, therapies, procedures, along with 121 follow-up packages.