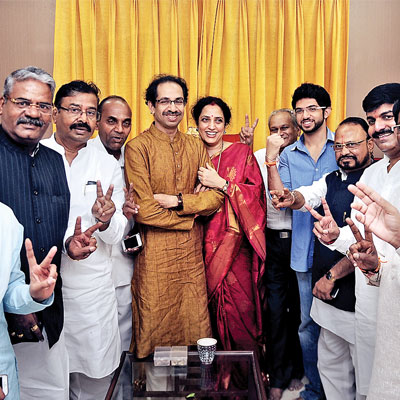 Shiv Sena may have put up its best show ever by getting 18 Lok Sabha seats in Maharashtra and emerging as the second largest party in the BJP-led NDA. But it risks being pushed into the role of a junior partner in the saffron alliance by a resurgent BJP under Narendra Modi, with party sources admitting that this decline began steadily after the death of party supremo Bal Thackeray in 2012.
Shiv Sena, which has a much broader political and social base as compared to BJP, had always dominated the saffron alliance, which was forged in 1989 after a short-lived attempt in 1985.
Sena leaders admit that buoyed by a saffron victory, BJP may try to corner them and relegate them to playing second fiddle — especially before the state assembly polls — for a larger share of the power pie, including the chief minister's chair. BJP has nursed a "shatpratishat BJP" (100% BJP) dream since the times of senior leader Pramod Mahajan, who was the saffron alliance's architect.
Shiv Sena contested 20 Lok Sabha seats and won its highest tally ever of 18 riding on the anti-incumbency and pro-Modi wave, antipathy of young and first-time voters towards the established order and "reverse polarisation" in the majority community. Sena's previous best performance in the Lok Sabha was 15 seats in 1996 and 1999.
Senior Sena leaders wistfully recall an era when the late Sena chief, who enjoyed a talismanic appeal over his cadre, would have to speak last at joint rallies of Shiv Sena and BJP, after veterans LK Advani and Atal Bihari Vajpayee, to prevent the audience from walking out after his speech ended. BJP leaders admit that Sena's presence enforces a natural restriction on the sociopolitical expansion of the party, which has an urban, middle-class image.
In the 2009 assembly polls, Sena had contested 169 seats as against 119 for BJP, and won just 44 of them as against the latter's 46. Sena lost its status as the principal opposition party in the lower house of the legislature to its ally. Interestingly, BJP had managed to wrest two more assembly seats from Sena in the seat-sharing exercise. A Sena leader said that apart from flexing its muscles in the alliance, BJP was also likely to ask for a larger share of seats, and insist on getting more winnable constituencies.
As compared to the mild-mannered Sena president Uddhav Thackeray, Modi is seen as an aggressive Hindutva hardliner, which was originally a Sena plank.
"BJP may become more assertive and put pressure on Shiv Sena and demand more (assembly) seats," said Surendra Jondhale, professor, department of civics and politics, University of Mumbai, adding that BJP was also likely to take over the role of a "big boss" and force Sena's hand for seat adjustments with the rival Raj Thackeray-led MNS despite its debacle in the Lok Sabha polls. "The BJP will try to diminish Shiv Sena's political influence," said Jondhale.
However, a Shiv Sena activist pointed out that apart from the Modi wave, the saffron alliance owed a lot to the efforts of party activists who had worked hard as force-multipliers to demolish the Congress- NCP's strongholds in Maharashtra. "Like we benefitted from BJP, BJP too gained because of us," he noted, pointing out that Shiv Sena candidates had won despite MNS contesting against them in eight seats (including three in Mumbai) versus just two for BJP.
In 2009, Raj, who had formed the rival MNS after splitting from Shiv Sena, had put up candidates in 12 Lok Sabha seats, leading to the defeat of Sena and BJP candidates from nine places due to a split in saffron votes.