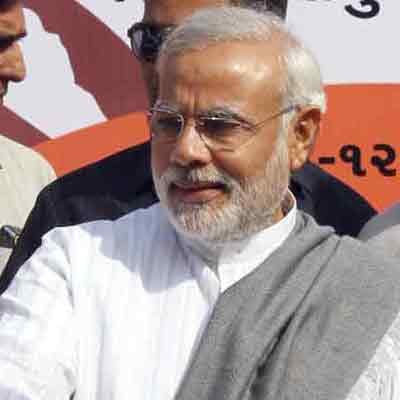 An Urdu version of the website of BJP's prime ministerial candidate Narendra Modi – an attempt to open a dialogue with the Muslim community – has managed to get as many as 86,140 hits within two days of its launch.
The website was launched by Salim Khan, father of actor Salman Khan, along with businessman Zafar Sareshwala and BJP state treasurer Shaina NC at Salim Khan's Bandra home on Wednesday. Khan had told media persons that launching the website in Urdu was an excellent initiative. Khan said Urdu is a beautiful language and he is extremely happy that this innovative idea, which was suggested by him, has been accepted and implemented.
Gujarati businessman and Modi supporter Zafar Sareshwala told dna, "Urdu has a big audience and a website in Urdu makes sense. The website is interactive and people can ask Narendra Modi questions. We are non-political people and it was Salim Khan, I and Shaina NC who suggested to Modi to launch the website. More importantly, Urdu is a Hindustani language and not exactly a Muslim language. Large number of Hindus too speak the language," said Sareshwala.
"Even Salim Khan will contribute articles on the website in Urdu," he added.
When asked whether it was initiative to reach out to Muslims through the Urdu website, Sareshwala said, "it is important to have dialogue with all sections of the society."
After the website was launched, Modi tweeted thanking Salim Khan for launching the website. "I thank Salim Khan saheb for launching the Urdu version of my website. I congratulate and thank our volunteers for their efforts in making the Urdu site. If you find mistakes or have suggestions, do share."
According to the website, the Urdu version was launched as part of the many initiatives of Modi to reach out to people. The site contains a biography of Modi and talks about the development initiatives in Gujarat in the last decade. The website is already available in 11 regional languages and four foreign languages, including Russian, Japanese, Chinese and Spanish along with English.
Some time back, Salim Khan has written an introductory note in a book titled Modi, Muslims and Media, endorsing Modi and blaming the media for the BJP prime ministerial candidate's "anti-Muslim" image.