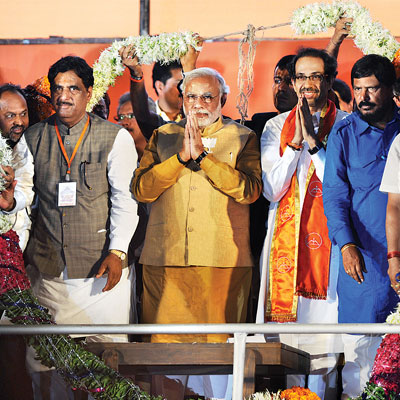 Bharatiya Janata Party's (BJP's) prime ministerial candidate Narendra Modi on Monday wooed the youth and appealed to them to do door to door canvassing for a strong government. Modi, who was addressing a huge crowd at the Bandra-Kurla Complex (BKC) ground, avoided any mention of MNS or his party's relationship with the Shiv Sena. He, however, heaped praise on late Sena supremo Bal Thackeray.
Former BJP president Nitin Gadkari was conspicuous by his absence at the rally where Modi spoke his opening sentences in Marathi. Modi told the gathering that wherever is late Thackeray now, they should make him happy by voting for the alliance candidates.
Emphasising on the importance of the age between 18 and 28 in a person's life, he said: "During this period, even if you waste five days, your life gets affected. If there is an ineffective government, then what will happen to you? Have you all thought about it? I am worried about the youth who are between 18 and 28; I want a government which will change the lives of these youth."
Lambasting the UPA government, Modi said, "After the Nirbhaya rape case, the youth came out on the streets to protest but the central government used water cannons on them. Thereafter, it announced a Nirbhaya fund of Rs1,000 crore but will somebody ask this government what it did to that amount in the past one year. They did not spend even a single rupee. They have rubbed salt on the wounds of our mothers and sisters."
Modi also attacked Rahul Gandhi and said that he indulged in "poverty tourism" by visiting the homes of the poor and having lunch with them. "He goes to the poor because he has not seen how they look like, just like someone who goes to see the Taj Mahal in Agra," Modi said.
Modi further alleged that the Congress has not really reduced poverty. He said that they have merely reduced the measuring standard for BPL individuals, thus artificially reducing poverty.
According to Modi, the UPA government's 2009 manifesto promised 10 crore jobs for the youth. "But after five years, they have not been able to give even 1.5 crore jobs to the youth," he said.