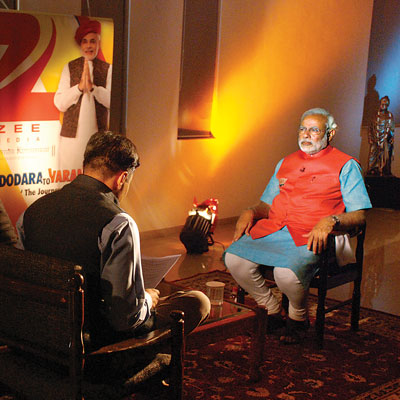 The last 12 years Narendra Modi has been chief minister of Gujarat, bright IAS officers who implement his vision have been in awe of him. Says Vijay Nehra, a young, towering IIT graduate who quit Infosys to take up a career in IAS, and is now working as additional secretary in the chief minister's office: "I have never seen anyone so optimistic, or so hardworking. He (Modi) goes to sleep at 1.30am, is up again at 5.30am. In the last 32 days, he has addressed hundreds of rallies all over India, but every night, he is back here at his Gandhinagar office to do state administrative work."
Nehra hails from a backward village in Rajasthan where water is still drawn from the well assigned to his caste. Though he was a brilliant student who funded his education all through scholarships, he comes from a poor family (''my siblings are illiterate"). Nehra understands poverty and hardships instinctively.
So, of course, does Narendra Modi, who on Monday night at his Gandhinagar residence told Zee Media in an exclusive interview that he is proud of his OBC background, a card, he said, he would have never played had Congress MP and a leading party wit, Mani Shankar Aiyar, not referred to his early stint in life as a tea seller. "They forced me to. I don't believe in vote-bank politics".
What's common to the young Nehra and the relatively elderly Modi is a missionary zeal to improve things. There is plenty of room, of course. Modi sees "good governance" as the way to do it. It is just this country's awful fortune that without it, not even a toilet can get built. And toilets figure big time in Modi's vision of India because close to 60 per cent of India's population has no access to that dignity.
Modi surrounds himself with good people. In fact, people have been his great success. It is doubtful if there is any other contemporary leader who has understood with a sense of historic urgency the need to make use of the intellectual quotient of honest and competent people the way Modi has. It is a safe bet that he has the receiver in his head totally tuned in to the frequency of what is happening in the great academic institutions, for instance, the IITs and the IIMs of India, and that his people scout the talents on these campuses.
The perception that Modi is serious about effecting a change in India's wayward destiny is not an engineering feat in perception alone though his detractors might like to think it that way. The common man -- that elusive unit of Indian democracy that only RK Laxman's lines seem to have the ability to conjure up -- of Gujarat, too, believes he is in good hands.
The ubiquitous taxi driver will point out to you, as you travel on a hot day along the smooth, tree-lined roads, that there are no bumps because of Modi. "He is always working. Always," says the cabbie.
Modi himself is acutely aware of his achievements -- milestones in his journey against odds -- primarily because as an outsider, he sees performance as the key to success. On Monday, he talked about how he brought power to the people in Gujarat in the first five years of his regime. The other remarkable thing, according to experts, is that he changed the face of Gujarat agriculture, and then industry. Both were power-starved and worked in fits. Both are doing well now, on a more even ground, well wired and watered.
Modi believes media has victimised him. He is relatively more at ease with TV than with print. TV, presumably because he is directly dealing with the audience, a job he is very, very good at. Modi is a great communicator. As this correspondent watched him at close quarters, it occurred to him, though Modi was often covering the same ground -- good governance, development, employment generation, infrastructure, dignity of living -- in large generalities, he does it with such conviction that it is possible to believe at last that help is at hand. As Modi said during the course of the interview, "I understand people, I know what they want."
On May 16, when the results of the general elections come in, Modi is more than likely to lead his party to a historic win. His real test will start then. Unlike Gujarat, where his control now is virtually absolute, Delhi -- and India – would stretch him not just as an administrator but also as a politician. And, quite often, there is likely to be little difference between the two. But on the good side, God, as Modi said on Monday, is with him. "The rains never failed me either." This summer, he will need plenty of both.
As you travel towards Gandhinagar from Ahmedabad city, you will see the Sabarmati Riverfront
Development Project. A few years ago, the canal was a sluggish drain that cut through slums on either side. Today, it is a beautiful place to spend your evenings. In the face of activist resistance, Modi had the water diverted from the Narmada river 200km away. Clearly, this is a man who altered the flow of a river like the mythical King Bhagiratha did. Modi may change India's course yet. No man in recent times has directed his steps to Delhi with such steely ambition. All beware.