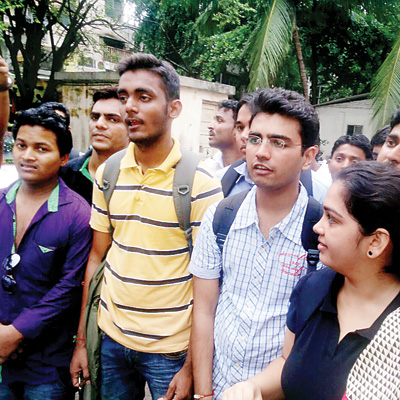 More than 60 students of Nalanda Law College at Borivali recorded a statement against the college for duping them by not reserving their first year law seats for which they had paid Rs 22,000 to Rs 44,000 in the offline admission process. The Borivali police will file a case against the college on Wednesday.
Students go for offline admission
According to the students, they took offline admission in Nalanda Law College around the month of May. As per their complaint, they filled an admission form provided by the college for the first year of a law degree course which was of three years.
Paid seats allotted to other students
Apeksha Kadam (name changed) one of the students who was duped, said, "I paid Rs 22,000 for the admission of first year of the law degree course. The lady at the admission forms' counter gave me an acknowledgment slip and said that the receipt will be given later. When the online admission process of the University of Mumbai started, the college didn't reserve our seats for which we paid and gave our seats away to other students who had applied for admission online."
Student paid half of actual fees
Echoing the sentiments of Kadam, Sheela Desai (name changed), another aggrieved student said, "I paid half of the actual fees for the first year admission when submitting the offline admission form to the college as per their instructions. I was shocked when I went later to the college to submit the online form and they said that I have missed the admission, although I had already paid offline before online admissions started to secure my seat."
Borivali Police:
Arvind Mahabdi, assistant commissioner of police, Borivali division, said, "We are taking down the statements of all the aggrieved students and tomorrow (Wednesday) we will call the college staff and management officials to record their statements. By Wednesday, we will probably file a forgery and cheating case."
Collegespeaks:
Ajay Salunkhe, Trustee of Nalanda College, said, "We will file a case against the employee of our college who kept us in the dark and did not intimate that she has taken offline admissions and also collected money from students. She has been working with us since the past 14 years and is a civil engineer looking after the maintenance of our college. We are trying to talk to the University and also the bar council of India to allow us to increase one division that will help us accommodate all students who have been given offline admission."