Some stories need to go viral, and this is one of them.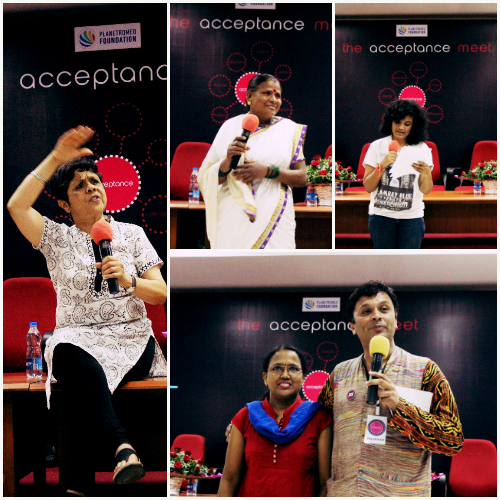 On Independence Day, even as most Indians spent their day with their patriotism pinned to their sleeves, a small but substantial group met at gathering in a hall at an Hospital in the Mumbai suburbs. This motley crew of "free" individuals were there to mark their rights as equal citizens of this country, irrespective of their age, caste, religion or sexual orientation—lesbians, gays, bisexual, transgender and heterosexuals, alike.
What started with a recitation of a Chetan Datar's 'Ek Madhav Baug' that moved so many to tears, moved into a heated panel discussion with activists, lawyers and politicians, culminating into a soulful interaction session with parents of LGBT kids.
Organised by the Humsafar Trust, the Acceptance Meet, as it was called, very poetically, and with much success, took the occasion of national pride and turned it into a platform for gay pride.
And on this platform poured stories of love, sorrow and acceptance. And even as LGBTQ youngsters narrated their 'coming out' experiences, it was their parents who shared their experiences of acceptance. "What is there to accept? He is already my son," one of the proud mothers told the audience.
A parent shares her acceptance story with @hiyer in the acceptance meet #acceptlgbtq @humsafartrust pic.twitter.com/CBNBToZ45P

— Pallav Patankar (@Pallav01) August 15, 2014
In agreement with her was the father of Sushant Divgikar, the Indian representative to Mr Gay World. He explained how it wasn't that hard to accept his son's sexual orientation. He went on to extend his support to those kids who were still struggling with 'coming out' to their parent, or even those who had and were not accepted by their loved ones.
And that the understanting is the strongest among siblings, was evident among the many stories shared. Even as a pair of twin sisters shared their story of love and support during the difficult phase of 'coming out', another sister read out a letter by her mother on her acceptance of her gay brother.
Shreya reads her mother's acceptance speech for her gay brother #acceptlgbtq @humsafartrust pic.twitter.com/Rxw2MuMQSQ

— Pallav Patankar (@Pallav01) August 15, 2014
Psychologist Ishita Mandal, who referred to sexuality choices as 'affection orientation', told the kids, "You should work towards accepting yourself. Your real strength is within yourself."
"The event was an attempt to understand that we are not just sex seekers and pink dress lovers. We sometimes are all of that, but we have more to us," explained prominent LGBT activist Harish Iyer on social media. "To understand that sexuality and gender is not black and white and grey, and to meet supportive parents, friends and family."
ALSO WATCH: How does feel to be queer in India? Indian LGBT community share their fears in this powerful video
Mother India's acceptance
Most interestingly, though, it was the presence of BJP's Mumbai chief Ashish Shelar that surprised many. Making it heard loud and clear, Shelar stated, "Criminalising gay sex through Section 377 is not accepted by the BJP."
"The issue is not just about the LGBT community," he insisted at a panel that was also attended by prominent names such as YP Singh, Abha Singh, Ashok Rao Kavi. "But a matter of concern for the entire society," he added. "Gay rights are human rights too," Shelar said echoing Health Minister Harsh Vardhan's statement.
Taking this as an acceptance of sorts from a leader of the ruling party, the crowd cheered Shelar, with the hopes that the MLA would move their case forward into the nation's parliament.
Later Shelar tweeted, reiterating his stand:
HUMSUFER panel discussion on ACCEPTENCE is really an eye opener fr soc at large. They really need to be listened to. pic.twitter.com/4np7kLKEoO

— ashish shelar (@ShelarAshish) August 15, 2014
If the issues raised by Humsafar concerns 4 crore people than surely it deserves a parliamentary debate. Will surely try for this#LGBT

— ashish shelar (@ShelarAshish) August 15, 2014
While concluding the event, organiser Ashok Rao Kavi noted, with hope, "Today our mothers here have accepted us; tomorrow we hope that Mother India will, too."
ALSO READ: On its 68th Independence Day, does India have #FreedomFrom intolerance?