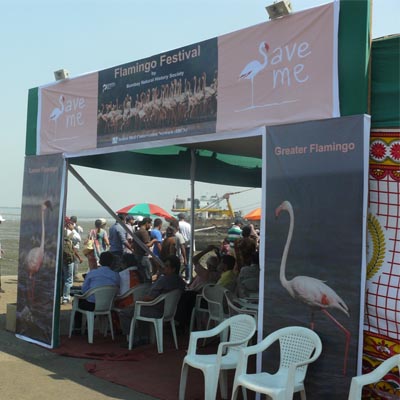 Bombay Natural History Society (BNHS), like every year, is organising the annual Flamingo festival this year too, on March 29 at Sewri Jetty from 12 noon till sunset. The festival, organised to spread awareness about the winter migrants, is open for all those who are interested and is absolutely free. This year, the festival has been supported by Mumbai Port Trust (MbPT).
The popular festival provides a good opportunity to bird-watchers and nature lovers to see and appreciate the beauty of nearly 20,000 flamingos spread out in the mudflats of Sewri, under the guidance of BNHS experts. Not only flamingos, this place is a haven for other birds species-both resident and winter visitors- like herons, egrets, ibises, gulls, terns, plovers, sandpipers, kingfishers and many more.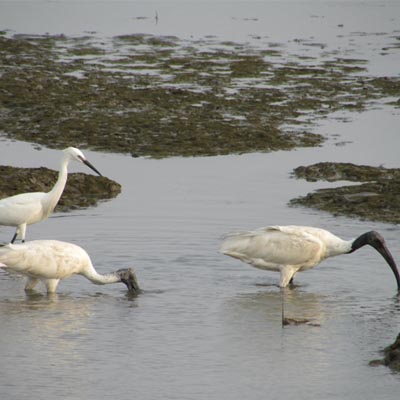 Apart from watching the long legged pink beauties, the Flamingo Festival will have a colourful illustrated exhibition on flamingos and a children's book on flamingos titled 'Phia – The Little Flamingo' by Shamim Padamsee will be released on the venue. BNHS has also organised the 'Think Pink Save Pink' slogan competition for school students to make them learn about these winter visitors. There are exciting prizes for the winners of this competition, which are sponsored by Smt Vijaya Deshmukh competition Fund.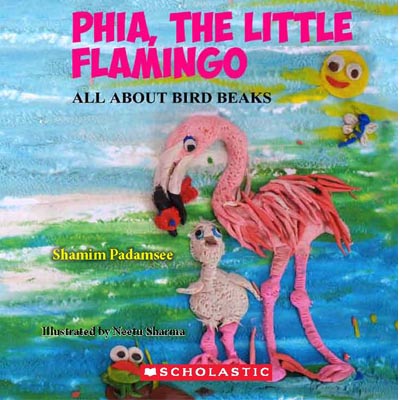 The festival is a wonderful platform for bird-lovers to celebrate the presence and contently have a look at the beautiful pink avian friends and other waders as well. The other interesting and informative activities will help in raising awareness and is also an occasion to show one's solidarity for the conservation of our city's wildlife.
More about Flamingos:
Flamingos are long-legged pink coloured wading birds. Their long legs help them to wade deeper in water in search of food. The two species of Flamingos, Greater Flamingo and Lesser Flamingo, migrate to the city every winter in large numbers. Flamingos are social birds and live in groups. Their main food includes algae and shrimp which contains carotenoid, a pigment which enhances pink colour to the birds. The nest of flamingos is just a mound of mud which is about a foot high. They lay only one egg per season and both the male and the female look after the egg together.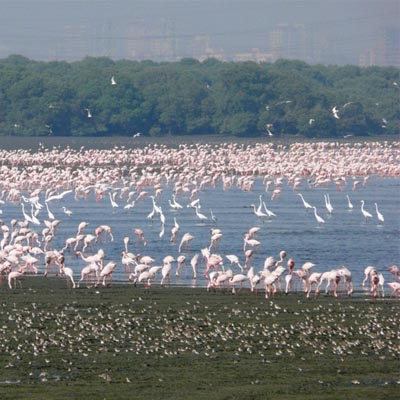 Read More: Congregation of Flamingos make for a breathtaking sight in Mumbai