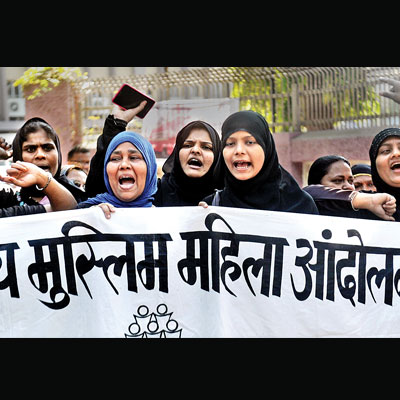 A large number of Muslim women on Friday protested outside the state women's commission office in Bandra against the comments made by Samajwadi Party (SP) state unit chief Abu Asim Azmi. The women expressed their ire at the remarks of Azmi and his party's national chief Mulayam Singh Yadav.
While Yadav said in an Uttar Pradesh election rally that rapes happen due to little mistakes of boys, and hence, they shouldn't be given capital punishment, Azmi suggested capital punishment for rape victims.
"I think, he has gone mad. How can he put a rape victim on a par with the person who commits the crime. This only shows the mindset they have," said Noorjehan Safia Niaz of Bharatiya Muslim Mahila Andolan (BMMA), which led the protest rally.
"The statement was made to ensure that some people who have a patriarchal mindset vote for them. It is this very mindset that has not allowed women's rights bills to be passed in Parliament. We will shortly be demanding that the party be de-recognised," Niaz added.
The state women's commission, on the other hand, has issued a notice to Azmi. "We strongly condemn what he said. In today's times, women are not required to be told what they should be doing. They know what to do and when to do. The worse part of his statement is that he roped in religion. Women are coming out in large numbers to vote. We have issued a show-cause notice to him and asked him to be present before the commission on April 25," said Susie Shah, chairperson of the commission.
When contacted, Azmi denied having made the "hang the rape victim" comment. He said, "Only a stupid person can say that. I did not say anything of that sort. With respect to the other things, I did not give any bhashan; I just said what Islamic law has to say. In our country it (live-in relationship) is allowed. I will respond to the state commission notice and clear the misconception. Only a mad man can say that a rape victim should also be hanged. Even if I happened to say that, I am sorry for it. But, as per Islam, unmarried people in adultery are punished by caning."